Poverty reduction policies to be reviewed
VGP - Members of the Central Steering Committee on Sustainable Poverty Reduction have suggested that policymakers review economic assistance policies carefully to support Viet Nam's comprehensive long-term poverty reduction and growth strategy.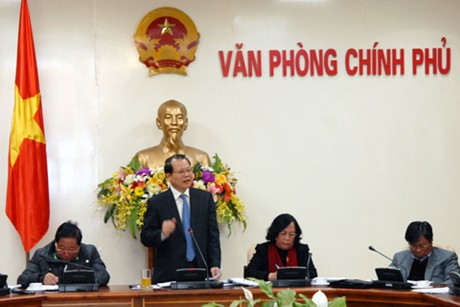 Deputy PM Vu Van Ninh at the conference in Ha Noi on February 20, 2014
Chaired by Deputy Prime Minister Vu Van Ninh, the meeting was held in Ha Noi on February 20 to contribute to a Government draft report on the implementation of legal polices on poverty reduction in the 2005-2012 period and results achieved in 2013.
A report presented by the Ministry of Labour, War Invalids and Social Affairs (MoLISA) revealed that the country saw an annual average poverty rate reduction of two percent, with a five percent reduction in disadvantaged districts and communes from 2005-2012.
According to the report, 621,000 poor households were provided with preferential loans for production development in 2013, and 13 million disadvantaged and ethnic minority people were granted health insurance cards.
The poor had full access to preferential policies, helping reduce the poverty rate and improving their living conditions, it added.
However, the achievements were geographically inconsistent, especially in mountainous and ethnic minority populated regions where the number of poor households accounted for half of the country's total, said the report.
Deputy PM Ninh also asked related ministries to reach a common view on making suitable policies to ensure sustainable poverty reduction and strengthen people's awareness on the topic.
The localities should apply the policies in a creative and effective manner based on their own socio-economic conditions, he said. -VNA