PM's trip to Japan was a great success: Foreign Minister
VGP - Prime Minister Pham Minh Chinh's freshly ended trip for attendance at the expanded Summit of the Group of Seven (G7) and a working visit to Japan was a success in both bilateral and multilateral aspects, according to Minister of Foreign Affairs Bui Thanh Son.
May 22, 2023 9:29 PM GMT+7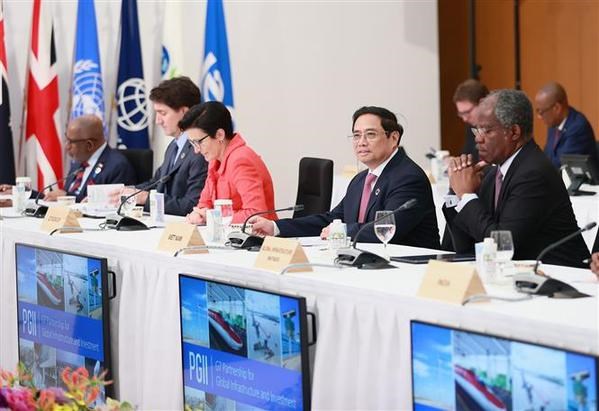 During nearly three days in Japan, Prime Minister Pham participated in about 40 activities, including working sessions and meetings with Japanese leaders, circles, businesses, and friends in Japan and leaders of countries and international organizations.
Multilaterally, Viet Nam contributed to the G7 expanded summit approaches and meaningful solutions from the perspective of a developing country, aiming to promote industrialization, modernization and extensive and comprehensive international integration.
At the working sessions, Prime Minister Pham highlighted many important messages, including promoting a more substantive and effective global partnership, upholding international solidarity, and persevering with multilateral cooperation to solve unprecedented challenges.
According to Foreign Minister Bui, the ideals and proposals given by Pham were highly valued by leaders of countries and international organizations, contributing to building a balanced and holistic approach to addressing global challenges.
On the bilateral aspect, Pham's meetings with the Japanese counterpart, leaders of Hiroshima and different circles of Japan contributed to further enhancing political trust and promoting the Viet Nam - Japan extensive strategic partnership.
This is especially meaningful when the two sides celebrate the 50th anniversary of their diplomatic relations.
Prime Minister Pham also had a dosen of bilateral meetings with G7 leaders, guests and representatives from international organizations to discuss specific and practical measures to beef up bilateral relations and foster coordination in matters of shared concern.
During these meetings, the partners lauded the role and position of Viet Nam. They affirmed their willingness to strengthen all-round cooperation with Viet Nam, focusing on economy and trade and settling emerging issues.
Regarding the specific impacts of Prime Minister Pham's trip on the extensive Viet Nam-Japan strategic partnership, Foreign Minister Bui underlined that the outcomes of Pham's trip to Japan contributed to sustainably promoting the extensive strategic partnership with Japan based on solid political trust, practical economic cooperation and diverse cultural, social and people-to-people exchanges./.