PM welcomes top Philippine diplomat
VGP – PM Nguyen Tan Dung on Wednesday welcomed Philippine FM Albert F. Del Rosario who is on a two-day visit to Viet Nam at the invitation of Deputy PM, FM Pham Binh Minh.
July 02, 2014 8:26 PM GMT+7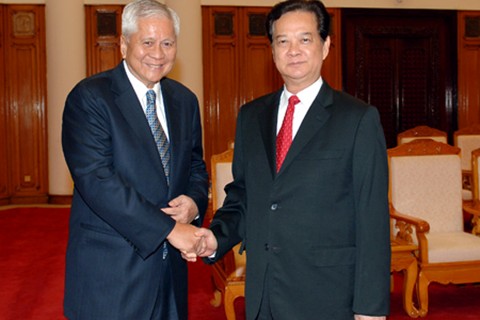 PM Nguyen Tan Dung and Philippine FM Albert F. del Rosario, Ha Noi, July 2, 2014 - Photo: VGP
The Philippines' top diplomat said his visit aims to deploy the initiatives and agreements reached during PM Dung's visit to the Philippines from May 21-22.
FM Del Rosario also briefed the host about the major outcomes of his talks with Deputy PM, FM Pham Binh Minh earlier on the same day.
Regarding the East Sea issue, the Philippine FM said that China's recent aggressive and inhumane acts violate international law and make the situation in the East Sea worse.
Particularly, China's illegal installation of the Haiyang Shiyou-981 rig in Viet Nam's waters in early May as well as its use of force and threat to use force against the Vietnamese law enforcement forces and fishermen have seriously infringed international law, including the 1982 UN Convention on the Law of the Sea and the Declaration on the Conduct of Parties in the East Sea (DOC), FM Rosario said.
These acts aim to assert and realize the nine-dash line illegally claimed by China and expand its illegal sovereignty in reality, he added.
The Philippine FM affirmed that his country will continue coordinating with the international community to take measures and actions to force China to comply with international law.
Meanwhile, PM Dung stressed that there is no other way for nations holding sovereignty over the East Sea and ASEAN member countries than to unite in the fight to stop China's violations of international law and other countries' sovereignty, even bringing the case to international tribunals.
For the bilateral ties, PM Dung asked the two foreign ministries to figure out a roadmap for and content of the future strategic partnership./.
By Kim Anh