PM welcomes Gen. Martin Dempsey
VGP – PM Nguyen Tan Dung on Thursday met with Chairman of the Joint Chiefs of Staff of the US Army, Gen. Martin Dempsey who is on a four-day visit to Viet Nam at the invitation of the Chief of the General Staff of the Viet Nam People's Army, Sen. Lieut. Gen. Do Ba Ty.
August 14, 2014 9:03 PM GMT+7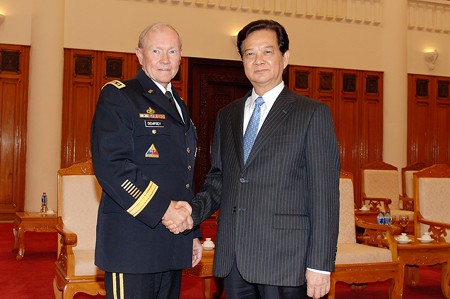 PM Nguyen Tan Dung and General Martin Dempsey, Ha Noi, August 14, 2014 - Photo: VGP
This is the first time a Chairman of the Join Chief of Staff of the US Army visits Viet Nam since 1975.
PM Dung highly valued the outcomes of the talks held earlier on the same day between the two generals.
The Government chief affirmed that Viet Nam hopes to work with the US to expand the bilateral ties in various areas, from politics-diplomacy, economy, trade, climate change adaptation to security-national defense for mutual benefits and for peace, stability, cooperation and development in the region and the world.
PM Dung voiced his support for continued cooperation in overcoming war consequences, search and rescue, disaster relief, training among others between the two armies.
General Dempsey said his visit to Viet Nam shows the US commitment to peace and stability in the region as well as his country's desire to become a good partner of Viet Nam.
He shared the view that peace, stability, security, safety and freedom of navigation and aviation in Asia-Pacific, particularly in the East Sea and East China Sea, are under serious threat due to irrational claims and acts to claim sovereignty based on unilateral might.
General Dempsey stressed that countries, including the US, bear the responsibility for maintaining peace, stability, security, safety and freedom of navigation and aviation in the region; support the settlement of disputes through peaceful measures with respect to international law, especially the 1982 UN Convention on the Law of the Sea, without resorting to use or threat to use force.
He also said the US supports Viet Nam's participation in UN-led peace-keeping operations and expects to cooperate in maritime security with the Southeast Asian country.
The US will soon lift lethal weapon embargo on Viet Nam soon, according to Mr. Dempsey.
By Hai Minh