PM: VN realizes its ODA commitments with high responsibility
VGP – Speaking to international donors, PM Nguyễn Tấn Dũng on Thursday emphasized that ODA is an essential resource which will be further effectively used by Việt Nam.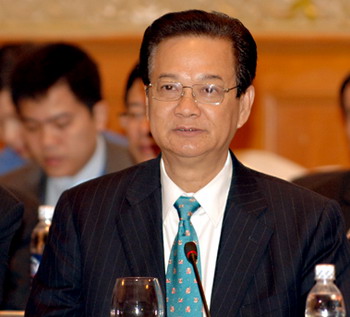 At the Consultative Group (CG) Meeting for Việt Nam 2009, PM Nguyễn Tấn Dũng states that Việt Nam values every coin of ODA source, Hà Nội, December 3, 2009 – Photo: VGP

The Consultative Group (CG) Meeting for Việt Nam was opened on Thursday morning under the theme "Regaining rapid and sustainable economic growth, attracting nearly 500 participants representing the business circle, governmental agencies, donors, and mass media.

The two-day event focuses its discussions on such practical topics as sustaining macro-economic stability, reforming State-owned enterprises; sustainable poverty alleviation; administrative reforms; modernizing public services; environment protection and climate change; and anti-corruption.

ODA: an important resource

Briefing Việt Nam's socio-economic situations in 2009, PM Nguyễn Tấn Dũng highlighted the role of ODA in socio-economic development.

ODA has really become an important resource for the Government of Việt Nam to build up and perfect socio-economic infrastructure, consolidate institutions, better social affairs, protect environment, promote rural development. Especially, the poverty rate was sharply slashed from 58% in 1992 down to 11% this year.

"The Government and people of Việt Nam highly appreciate enormous support and assistance of the international community," said PM Dũng.

It is estimated that the total ODA commitment for 2009 reaches US $5.85 billion and that Việt Nam can disburse a record figure of about US $3 billion this year, up 59% compared to 2008.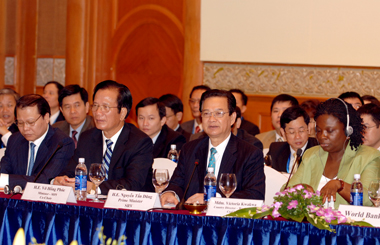 PM Nguyễn Tấn Dũng (first row, 2nd from right) at the Consultative Group (CG) Meeting for Việt Nam 2009, Hà Nội, December 3, 2009 – Photo: VGP
More fruitful use of ODA
In his speech, PM Dũng reaffirmed Việt Nam's strong commitment to more effective use of this valuable capital source.
"Việt Nam will continue to improve its business and investment climate in order to push up production and business activities, foster export and expand domestic markets," he reiterated.
Việt Nam also pledges to sharpen efficiency of State management, create breakthroughs in administrative reforms, perfect its market economy regime, build a fair competitive playground, and accelerate anti-corruption and anti-prodigality.
The Government will adopt reasonable assistance policies to stimulate medium and long-term economic development, restructure the national economy and raise quality and competitiveness of products, enterprise and the entire economy, so as to ensure the growth rate of 6.5% in 2010.
PM Dũng underlined that Việt Nam always values each coin of ODA resource and realizes its commitments to donors with a high sense of responsibility.
Talking of climate change, the Vietnamese leader hoped to get more assistance from the international community for Việt Nam to cope with negative impacts of climate change and sea level rise.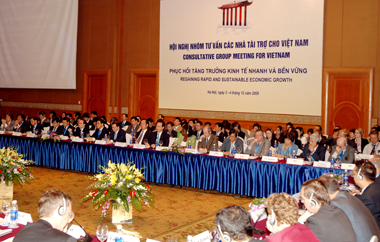 The Consultative Group (CG) Meeting for Việt Nam 2009 opens in Hà Nội on December 3, 2009 – Photo: VGP
Việt Nam's efforts acknowledged
At the CG Meeting, Mrs. Victoria Kwakwa, WB Country Director in Việt Nam, asserted that in 2009, Việt Nam has managed to survive the global economic recession and maintain a fairly high growth rate.
She urged donors to join hands with Việt Nam in bettering its investment environment, so that the country is still an attractive destination for foreign investors.
By Xuân Hồng