PM urges Thai Nguyen to become growth pole of Northern region
VGP – PM challenged leaders of Thai Nguyen to envisage a development vision which would help turn the province into a growth pole of the North while addressing the locality's investment promotion conference on Sunday.
July 01, 2018 3:25 PM GMT+7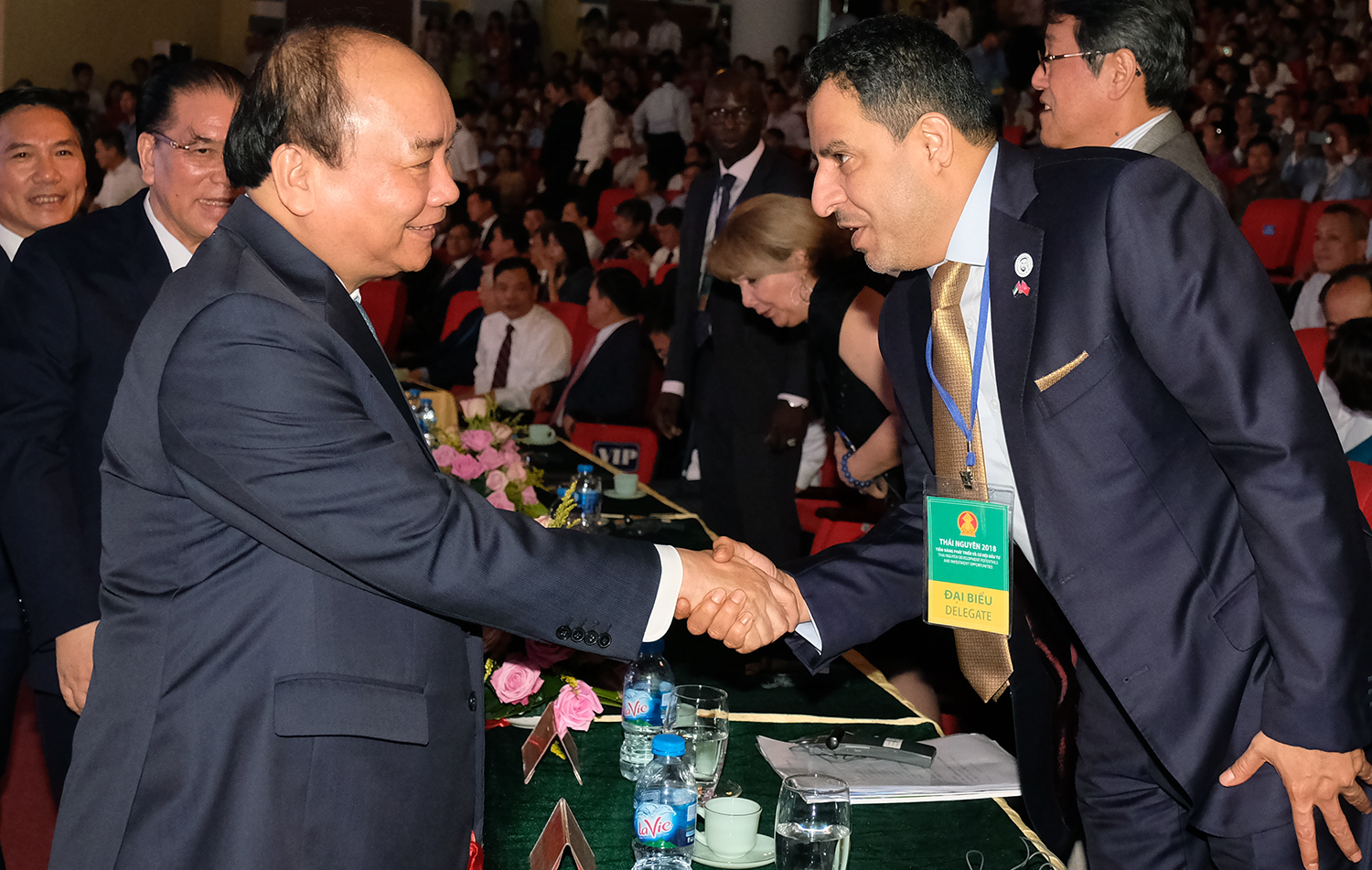 PM Nguyen Xuan Phuc shakes hands with delegates to the Thai Nguyen Investment Promotion Conference, Thai Nguyen city, July 1, 2018. Photo: VGP
To have that kind of vision, the Government chief asked Thai Nguyen to mull over the following four major orientations.
Firstly, Thai Nguyen needs to become a leading center of industrial production, service and innovation based on close linkages between foreign-invested and private sectors.
Secondly, as the export value increased from US$ 245 million in 2013 to US$23.5 billion in 2017 thanks to the success story of Samsung Thai Nguyen, it is necessary to promote investment attraction in high-tech industries in order to build sustainable connectivity and enhance the participation of local businesses in the locality's industrial production network.
Thirdly, Thai Nguyen needs to diversify its economy based on three pillars: High-tech industries, tourism-service, and high-tech agriculture.
Fourthly, Thai Nguyen should be a role model for sustainable development in terms of economic growth and environmental protection, having long-term planning vision and healthy and safe destinations for investors.
Earlier on June 30, the Government chief had working session with officials of the provincial Party Committee, during which he hailed the locality's comprehensive development across the fields, from economy, social affairs to national defense-security and external relations.
Thai Nguyen is also a good example in the northern mountainous region in attracting foreign investment, he added.
However, the private sector in the province remains small in scale and weak in competitive capacity, thus the province also needs to improve its indices of market participation and enterprise development.
In particular, agro-forestry processing industry is the weak point of Thai Nguyen, as is tourism, despite the great potential of the locality, which is a former revolutionary base with many historical relics along with beautiful landscapes.
Thai Nguyen should pay attention to promoting tourism and services in order to fully tap the local advantages and potential, the PM said.
In 2017, the province posted an average growth rate of 12.7%, nearly double the country's average. Local per capita income reached 68 million VND (2,978.4 USD), higher than the national average.
In the first six months of this year, the local economy grew by 9.85%./.
By Quang Minh