PM urges big funds to expand investment in Viet Nam
VGP - Prime Minister Pham Minh Chinh separately received executives of Warburg Pincus and Glenfarne Groups in New York during his ongoing working trip to the U.S.
May 16, 2022 8:08 AM GMT+7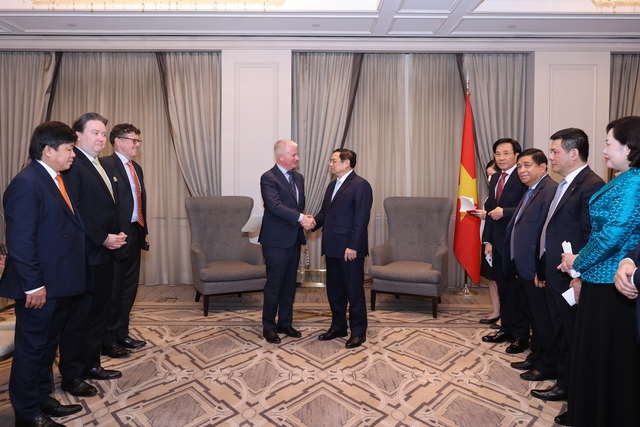 Meeting with CEO of Warburg Pincus Charles Kaye, Prime Minister Pham applauded the effective operation and contribution of the fund in the fight against COVID-19 in Viet Nam.
Viet Nam became the third investment destination of Warburg Pincus after China and India. Since 2013, Warburg Pincus has poured nearly US$ 2 billion in leading Vietnamese groups and companies, namely Vingroup, VinaCapital, Techcombank, Becamex, and MoMo.
The Prime Minister said that the Vietnamese Government stands ready to hold dialogue with enterprises so as to help them operate successfully in the country, which shows the mutual trust, sincerity, sense of responsibility, and win-win cooperation.
He asked American enterprises, including Warburg Pincus, to fully implement their commitments and directly liaise with relevant ministries and sectors of Viet Nam to expand investmentespecially in such areas as technological transformation, capital market, digital transformation, energy, climate change and strategic infrastructure projects, settlement of war consequences.
In reply, CEO Charles Kaye congratulated Viet Nam on its success in overcoming the COVID-19 pandemic over the last two years.
The stable business environment and marco-economic stability in Viet Nam have created favorable conditions for foreign players, said Kaye. However, he suggested Viet Nam should improve infrastructure in a more drastic manner.
Welcoming foreign involvement in clean energy transition
The same day, Prime Minister Pham welcomed Glenfarne Group's interest in energy transition in Viet Nam while receiving CEO of Glenfarne Group Brendan Duval.
Viet Nam is set to issue the Electricity Development Plan VIII, which includes adjustments to the planning for development of LNG power plants along the country's coastal provinces, said the Government chief.
He said he hopes the group to invest in clean energy in Viet Nam.
In reply, Duval said the group operates modern and flexible LNG plants around the world, and in the long term, it hopes to contribute to the energy transition in Viet Nam./.