PM underlines macro-economic stability and higher growth rate as top priorities in new year
VGP – On the threshold of the New Year 2010, PM Nguyễn Tấn Dũng had an article recalling Việt Nam's lessons and experience of overcoming difficulties and challenges amid the global economic crisis. The PM also pointed out solutions to consolidate macro-economic stability and obtain a higher growth rate.
In 2008 - 2009, our people and country have been facing and overcoming many difficulties and challenges due to unusual and reverse changes of the world economy, which worsened the national economy's internal weaknesses and restricted our possibilities to adopt responses and development policies.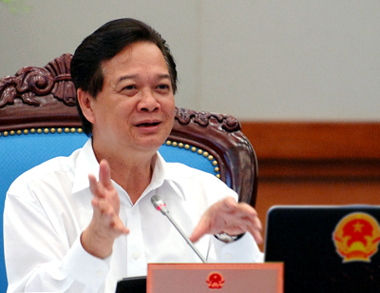 PM Nguyễn Tấn Dũng: The overall targets for 2010 are to consolidate macro-economic stability and attain a growth rate higher than 2009 – Photo: VGP

The story began with inflation, when the rocketing prices of food, petroleum and most of imports made prices on domestic market to hike. In addition, financial and monetary policies were loosen for years, foreign investment capital in stock market sharply increased, the total means of payment and outstanding credits surged, especially in 2007, and we were forced to readjust prices of coal, petroleum and electric power in line with the market regime. The aggregate impact of all these elements made the consumer price index in our country to reach a double-digit figure, higher than some countries in the region, put production and people's life in difficulties, caused worries and diverted feelings in the society. In such a context, we adopted the priority targets of curbing inflation, stabilizing macro-economy, guaranteeing social security and maintaining a proper growth rate through eight groups of synchronous solutions in order to fulfill this unscheduled major task.
Since September 2008, the financial crisis and economic recession, rising from the US, spread out worldwide, seriously affecting most of economies and causing negative impacts on our country, especially in terms of export, investment capital, tourism revenue and remittance, diminishing growth and threatening macro-economic stability and social security.
Recognizing serious impacts of the crisis, in early quarter IV of 2008, we shifted priority targets from curbing inflation to preventing growth recession while maintaining macro-economic stability and social security. The Government timely issued economic stimulus policies and provided interest rate incentives in line with the actual situations in order to boost up production and business, secure employment and growth.
Thanks to great efforts made by the entire Party, people, army and the business community, under the sound leadership of the Party Central Committee and the effective management of the State, we realized the overall targets of each year. Inflation was kept in control, since mid-2008, price increase was reined in and slashed down to 6.52% this year. Việt Nam has managed to obtain a GDP growth rate of 6.23% last year and in 2009, when the world economy see a negative indicator, it continued to be one of few countries attaining a relatively high growth rate of 5.32%; macro-economy was stabilized; social security and welfare maintained; national sovereignty, political security and social order and safety guaranteed; the country's status and strength further consolidated, and its position heightened on international arena.
At the Consultative Group (CG) Meeting in early December, international donors offered a record ODA commitment of over US $8 billion in 2010. This proved that the international community highly admired the Party and State's guidelines for renovation and socio-economic development.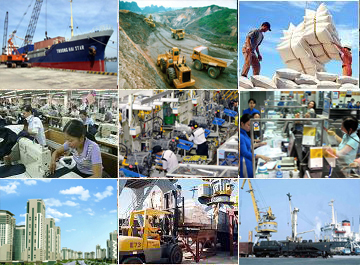 At its 6th sitting session, the 12th National Assembly set the target of the growth rate of 6.5% in 2010
We can draw out many valuable lessons and experience of coping with difficulties over the past two years: (1) Sustaining macro-economic stability and social security while creating a favorable climate for business activities; (2) Mobilizing all investment resources to promote production and business, and to expand markets in an increasingly effective way is the decisive factor to sustain growth and the material resource to stabilize macro-economy and social security; (3) Closely following actual market changes, so as to make timely and sound readjustments; at the same time, directing the implementation in a drastic and prompt manner; (4) Guaranteeing national defense and security and enhancing diplomatic work to lay the good foundation for socio-economic stability and development; and (5) Creating high political and social consensus as an important driving force and an aggregate strength to realize all missions in the difficult time.
In 2010, though the world economy has seen positive changes, signs of its recovery remain weak. The global economic growth rate is estimated at about 3%, mainly because of stimulus packages for investment and domestic consumption in different countries; the world commodity trade only increases by 2.7% over 2009. Developed economies, which are now our major export markets and are pouring a large sum of investment capital in our country, still face difficulties, their growth rate stands at around 1.3% and their import demand up only 1.5%, lower than the average of the world [1]. Many countries are weighing the options to continue policies of economic stimulus and loosen credit on the one hand, or to tighten these policies on the other hand. The US dollar, the backbone currency used in international payment, is experiencing ups and downs, affecting prices of many goods and investment channels. Some economies are trying to readjust the interrelationship between accumulation and consumption; protectionism tends to increase. In these conditions, such an open economy which is deeply integrating into the world economy and greatly depends on external factors like Việt Nam will continue to face high risks and instability.
For Việt Nam, the year 2010 will be an eventful year,when the country concludes its five-year socio-economic development plan 2006-2010, organizes Party congresses at all levels before convening the 11th Party National Congress, celebrates the 1000th anniversary of Thăng Long–Hà Nội, and hosts many national and international events. Thus, the successful implementation of the Socio-economic Development Plan 2010 and the five-year plan 2006-2010, paving the way for realizing the socio-economic development strategy 2011-2020, is not only political responsibility of each and every cadre and Party member but also a legitimate requirement of the entire people.
At its 6th sitting session, the National Assembly adopted the overall targets for 2010, namely striving best to recover economic growth rate higher than 2009; increasing macro-economic stability; improving growth quality; preventing the recurrence of high inflation; further maintaining social security; proactively integrating in and raising efficiency of international economic cooperation; securing political stability, social order, national defense and security; obtaining highest norms set in the five year socio-economic development plan 2006-2010.
The main guideline in directing socio-economic development in 2010 is to consolidate macro-economic stability in order to attain a higher economic growth rate, both in quantitative and qualitative terms, while preventing the recurrence of high inflation. And a growth rate higher than in 2009 will bring about conditions and resources to ensure macro-economic stability and better social security.
In 2010, all walks of life and the business community should join efforts for stronger national development
In this spirit, while taking consistent measures to fulfill the overall target and specific norms mentioned in the plan 2010, it is necessary to realize five major groups of tasks and solutions as follows.
First, enhancing macro-economic stability and secure key balances of the economy
Macro-economic stability is the first and foremost condition to develop production and business, ensure social stability and sustainable development. The fundamental principle of macro-economic management is to observe rules of the market economy, secure key balances of the economy, closely combine fiscal policies with monetary ones and among the instruments of the monetary policies; properly deal with the interrelationship between credit interest rate, exchange rate, international balance of payment, especially balance of trade; well manage foreign exchange market and national debt; guarantee capital and liquidity of the economy; try to increase revenue and save spending; boost up investment and growth, prevent inflation and secure safety of the financial and banking systems.
It is necessary to further highlight the State's regulatory role, especially in such a transforming country like Việt Nam, where the market economy is not yet completely formed, economic balances not yet quite stabilized and competitive environment still imperfect. The State intervention into the market helps to guarantee market economic rules, without distorting market relations and to ensure macro-economic stability. When using regulatory tools, we must pay close attention to the scope and duration for high efficiency and low expenditure. We need to anticipate all market responses; if these responses can distort fundamental balances and cause macro-economic instability, they must be timely adjusted.
Second, to spare no effort to boost investment, production, business and economic restructuring.
Macro-economic stability is very important but is not purely a policy issue. Policy itself cannot decide everything but can only create favorable environment and conditions for developing production and business, mobilizing and distributing resources, adjusting possibilities of development and orientating economic activities. Macro-economic management also depends on economic potential. If economic potential is not strong enough, macro-economic management will be constrained. Therefore, lifting difficulties, mobilizing investment resources, pushing up economic restructuring, expanding production and business, and boosting up export are the most decisive factors which must be centered in sustainable development.
Agriculture, including forestry and fisheries, plays an important role in poverty reduction, social stability, food security and export. Agro-products, especially primary ones, though slightly affected by the global financial crisis and economic downturn, are the group of commodity strongly influencing prices in our country. It is necessary to foster agricultural production with increasingly higher quality and efficiency to provide more products for domestic consumption and export, raise purchase power and better farmers' living standards. Climate change, storms and floods, droughts, and epidemics always threaten agricultural production, so we need to fruitfully conduct preventive work in order to minimize damages.
Industrial development, with a high added valued, is an essential phase of economic restructuring and national industrialization and modernization. To obtain a growth rate higher than 2009, we must raise production value and added valued of the industry sector. The declines in production and consumption during the crisis have helped us to see more clearly the competitiveness and demand of each category of product in each market. Enterprises, sectors and localities should be aware of this to deploy their production in 2010. The main orientation is to place focus on products with high added value, large market share and rapid growth rate, at the same time enlarging consumption markets and closely watching all new changes and making timely readjustments.
In 2010, the State would continue to increase investment in order to stimulate growth, encourage all economic sectors to invest in infrastructure construction and production and business development. Increasing investment will not only create new production capability, boost growth in the construction sector but also create more markets for goods and services, generate more jobs, and therefore, bringing about pervasive effects on the entire economy. At the moment, it is very urgent to speed up the construction of projects and generate more products, so as to improve investment efficiency. Thus, capital allocation and mobilization of resources for the projects which can be finished in 2010 must be carried out promptly and strictly. We resolve to stop dispersing resources, prolonging the schedule, and delaying the operation of the projects.
Our economy is entering a stage when economic relations become more and more diversified, complicated and intermingled; specialization and cooperation more deepened and popularized, and therefore higher services are required. Over the past years, the service sector has boasted for a higher growth rate than GDP growth rate, even higher than the figure for industrial production in 2009, making increasingly significant contributions to economic growth. This situation requires and also creates chances for rapid development of services, particularly finance, information, consultancy, tourism, trade, transport, and logistics.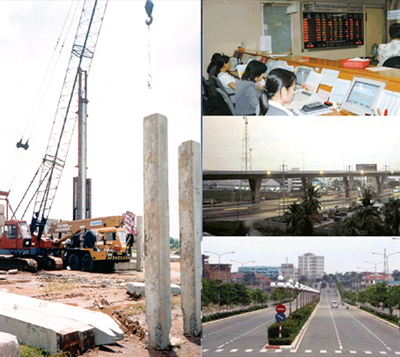 The Government pledges to provide credit interest rate subsidiaries for enterprises to upgrade their technology and expand production
To boost export, narrow trade gap, and improve the balance of trade are very important to stabilize macro-economy and growth. Though there remain difficulties due to the slow recovery of the world economy, the situations are more favorable than in 2009. It is necessary to tap traditional markets and those with free trade agreements while exploring new potential ones in East Europe, West Asia, Middle East, Africa and Latin America. The Việt Nam-Japan Economic Partnership Agreement, which came into effect on October 1, 2009, will surely be brought into full play in 2010. The ASEAN-China Free Trade Agreement, under which about 90% of import tax of China and six ASEAN countries are slashed down to zero since early 2010, will facilitate the access of Vietnamese goods into these big markets. Enterprises should make use of new chances to raise export turnover.
Our domestic market is very large, with a high growth rate and stability. For consecutive years, the retail goods and services revenue increased by around 10%, and in 2009 about 12% (after eliminating price increase); distribution services in the domestic market contributed about 14% of GDP, exploited over 5 million laborers, and accounted for the highest percentage in the service sector. Multinational groups have been proactively exploiting our domestic market. Last year, with the view of "domestic market is the foundation, external markets are important" and in response to the "Buy Việt Nam" campaign, the domestic market has prospered. Enterprises have attached greater importance to this market and more and more Vietnamese consumers are looking to made-in-Việt Nam products. However, to occupy the domestic market, enterprises should sharpen their competitiveness and pay greater attention to rural markets. They should make high-quality products which are appropriate for each group of consumers and foster specific features of Vietnamese commodities. At the same time, they should place importance on the development of distribution network, considering it the foundation to establish linkages between production, distribution and consumption as well as to form sustainable circulation channels. State management agencies must create favorable conditions for domestic enterprises to develop the distribution system and nurture powerful Vietnamese distributors. This must become the political thought and actions of leaders of sectors and localities. The fact that foreign investors in some cases are paid much attention to attract them to set up distribution establishments while domestic enterprises are less enthusiastically encouraged should be done away with. Each and every Vietnamese, first and foremost leaders and managers, should thoroughly grasp the viewpoint underlined in many resolutions of our Party: Internal potential is decisive, external one is important. Domestic market and enterprises are important factors to comprise the country's internal strength.
It is required to remove all obstacles to investment and business in order to promote production and expand market; we resolve to simplify administrative procedures, especially in such fields as market access, capital construction, customs, tax declaration and payment, so as to save costs and sharpen enterprises' competitiveness. We are determined to cut down at least 30% of current administrative procedures. The Government's determination is being transformed into actions of ministries, sectors and localities. It is important to ensure synchronism in operations of different sectors at different echelons because a weak component can hinder and hold back the operation of the whole apparatus.
Apart from administrative procedure reform in favor of investment, production and business, the Government will channel its aid to agriculture and rural areas, and perfect credit guaranteeing mechanism for small and medium enterprises, facilitating their access to development resources.
While striving best for higher growth rate and preventing inflation, it is necessary to attach importance to growth quality. We need to tighten supervision and management over public investment and operations of State-owned enterprises; perfect management and salary mechanisms in State-run sector, so that salary must be closely attached to business performance and efficiency of the use of capital and property. Enterprises in all economic sectors must check different phases of production and circulation, perfect their management, save input materials and energies, reduce intermediary costs, better the performance of each enterprise and the whole economy. All forms of enterprises are encouraged to develop. Role of State-owned enterprises should be highlighted in stabilizing macro-economy and growth.
Việt Nam boasts for a large domestic market with the retail goods and services revenue at around 10%
To improve growth quality and sustainable development, apart from the aforesaid immediate tasks, it is necessary to restructure the economy and renew the model of growth. This is a decisive condition to sharpen competitiveness in the context of increasing globalization and international economic integration. This work must be conducted continuously for years, in combination with resource accumulation in each and every enterprise, each production industry and in the entire economy. We must develop gradually while taking short-cuts in the fields where science and technology are changing rapidly and we have necessary conditions. This process must be sped up since 2010.
We must complete all preconditions for restructuring. First and foremost, we need to form an integrated market economic mechanism, develop technology market, create an equal ground for all players from different economic sectors; vigorously reform national administration; develop human resources, especially high-quality ones; and mobilize all means to upgrade and modernize infrastructure. We should clearly describe contents of restructuring, focusing on restructuring production industries, promoting economic restructuring, in combination with corporate restructuring and readjusting market strategy in order to quickly raise domestic value and added value of commodities and services, and nurturing the national business force with powerful Vietnamese brand-name enterprises which can take part in the global production network. This is also the transformation from a model of growth which mainly relies on extensive factors (capital, natural resources and low-quality labor force) to an intensive model which is based on aggregate productivity elements, such as science, technology, high-quality human resource and modern management skills, so as to raise these factors' contributions to growth. All enterprises should be fully aware that, in the current era of rapid technology development, aggregate productivity factors are playing a decisive role in terms of quality, efficiency and competitiveness. In this process, the State creates necessary environment and conditions, while the business community functions as the decisive force.
In 2010, the Government will continue providing credit interest rate subsidiaries for enterprises to renew their technologies and expand production activities. However, renewing equipment and technology must be closely associated to new organizational and administrative models, bringing about aggregate efficiency and promoting sustainable growth.
Third, to solve burning social issues, striving for specific breakthroughs in these important and sensitive fields
Over the past years, our Party, State and the entire political system have made great efforts in fulfilling various social missions and have achievements certain positive results, especially in reducing poverty, maintaining social security and welfare. However, these results are not really stable, the rate of re-impoverishment remains high, some burning social issues are slowly solved. These weaknesses have affected our achievements. The people recognize socio-economic achievements in a practical and specific way through their own life and the social environment in which they live daily. The people are requiring the Party and State to create real breakthroughs in these fields. This is also an essential criterion to show the preeminence of our regime.
It is impossible to settle burning social issues in a short time but we must create clear advances, focusing on some following ones: (1) To rapidly and fruitfully realize the Poverty Reduction Program in 62 poorest district nationwide while cutting poverty rate in other regions; (2) To better conditions and quality of healthcare and medical examination and treatment for people; ensure food hygiene and safety, and protect environment; (3) To improve quality of education and training, especially at tertiary level and in vocational training; (4) To prevent and combat corruption, crimes and social evils; and (5) To ease traffic jams and inundation in big cities.
The basic measures to realize the aforesaid tasks are to perfect legal system, mechanisms and policies, evaluation standards and sanctions; to further enhance legal popularization and education; to increase openness and transparency; to boost inspection, supervision and strictly punish violations; the State will increase investment while mobilizing all social resources; to highlight responsibilities of each and every sector at all echelons, first and foremost of their leaders, at the same time to engage the entire political system in solving these urgent tasks.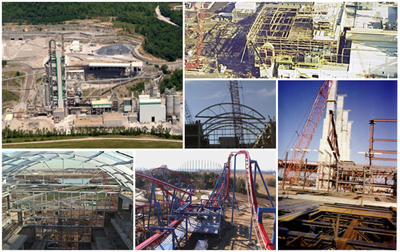 In 2010, Việt Nam mobilizes all resources to promote investment, production, business and economic restructuring

Fourth, to better capability in directing and organizing the implementation of development policies and targets
One of basic functions of leadership is to organize the realization. The outcomes of this work prove strength of the apparatus, the stuff and ability of the cadres, and the soundness of mechanisms and policies.
We need to conduct prompt and fruitful implementation work, words must be accompanied by actions. Party committees and governments at all levels, from central to grassroots, particularly leaders, must timely deal with all issues arising from realities. We must drastically direct and organize the realization of policies in a resolute and prompt way, so that these policies can not only be converted into resources for socio-economic development but also increasingly perfected in line with requirements of life and aspiration of people. Through directing and organizing the implementation work, we can find out new and creative solutions from the rich and active reality in each field, locality and unit.
Fifth, to well conduct information and propaganda work to disseminate guidelines and policies, create a high consensus in the entire political system and the whole society, from thought and actions
Development is an aggregate multipurpose process with the combination and interaction of economy, society and environment, in which some specific short-term goals may be contradicting to one another. Globalization can help to facilitate spatial expansion and temporal change of the reproduction process; moves of development, for times, are beyond all predictions and estimations. Furthermore, no mechanism or policy can cover all socio-economic phenomena. So, it is very normal when there are different opinions to a specific policy. The most importance is that, after making decisions, we must spare no effort to fruitfully realize the set tasks, solutions and targets. We need to make information public and transparent in order to clarify the Party and State's guideline and policies. Information and propaganda work must aim at the country and people's interests. It is necessary to timely reject false information, creating sound awareness, high social consensus, and consistent actions. This is very essential in Việt Nam, a country developing from a small production, where "Small farmer's ideology" and "Following the crowd" psychology remain relatively heavy. Over the past time, we have met this requirement quite well and we need to do it better in the time to come.
The world economy is experiencing unpredictable changes. It is necessary to keep a close watch on all moves of development in order to take proper and timely policy responses, so as to make use of new opportunities while overcoming difficulties, trying to gain a higher economic growth rate and solving social issues effectively.
We need to follow close behind actual situations, take prompt actions, assume responsibility, face and overcome difficulties, realize all socio-economic targets We need to closely associate socio-economic development tasks to guaranteeing national defense and security, and improving efficiency of diplomatic work. By doing so, we can protect the country's legitimate interests and national sovereignty, further raising Việt Nam's status on international arena. This will be the best preparation, both in terms of development thoughts and personnel, for the upcoming Party congresses at all echelons. This is also the most practical act to welcome the upcoming 11th Party National Congress and other important events slated for 2010.
[1] Indicators released by the International Monetary Fund, October 2009