PM thanks EU for timely vaccine, equipment donations
VGP – Prime Minister Pham Minh Chinh thanked the EU and its member countries for timely sharing vaccines, medical supplies and equipment with Viet Nam, during his reception for Executive Vice President of the European Commission Frans Timmermans on Friday.
February 18, 2022 11:04 PM GMT+7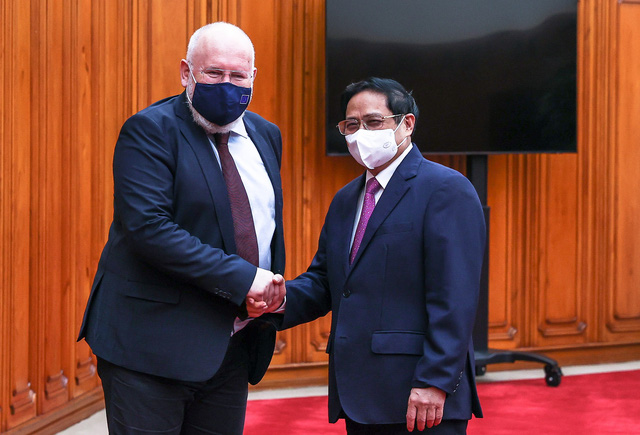 With prompt support and assistance from international partners, the country is confident to reopen borders and revise the economy, emphasized PM Pham.

He asked the EU and its member countries to continue assistance for Viet Nam in enhancing healthcare capacity and development of pharmacy sector.
Viet Nam exhibited amazing commitment, solidarity towards COVID-19 vaccination, said UNICEF Representative in Viet Nam Rana Flowers.
In her interview with the VGP, Rana Flowers highlighted that the rate at which the Government has been able to distribute safely the vaccines has been astonishing and Viet Nam needs to feel very proud indeed of the Government's mobilization to get the vaccine to the people.
Viet Nam has achieved very high vaccination coverage, which is largely credited to the country's strong commitment from the highest level of the Government, active participation of related ministries, the fact that the people themselves understood the power of vaccination to protect from overburdened health systems and from death of their loved ones.
Rana Flowers highlighted Viet Nam's successful mobilization of support from companies, organizations and the public through the "Vaccine Fund" launched in June last year, adding that vaccine diplomacy has been key to Viet Nam having the supply it needs to reach the number of people that have now been vaccinated.
Even before the pandemic hit, Viet Nam had a strong immunization system in place at all administrative levels. For COVID-19 vaccination, the system was further strengthened and received much support from other sectors (such as from the military, the police and the education sector) to deploy the biggest vaccination campaign ever known to the country.
The UNICEF Representative emphasized that, these joint efforts enabled Viet Nam to roll out COVID-19 vaccination at an incredible speed, reach most of the target population regardless of their social or economic status and become one of the countries with highest COVID-19 vaccination coverage in the world.