PM stresses Hòa Lạc Hi-tech Park efficiency
VGP – PM Nguyễn Tấn Dũng highly valued initial achievements made by Hòa Lạc Hi-tech Park, including site clearance, investment in infrastructure, and water and electricity supply during its 10 years of operation.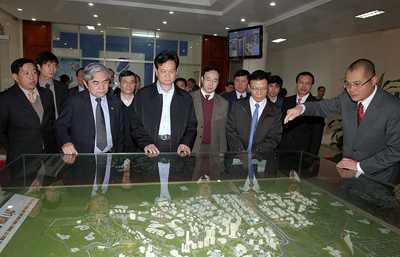 PM Nguyễn Tấn Dũng visits Hòa Lạc Hi-tech Park, Hà Nội, February 13 – Photo: VGP/Nhật Bắc
PM Nguyễn Tấn Dũng visited the park and had a working session the park management board on February 13.
"Construction of the Hòa Lạc Hi-tech Park as well as the one in Hồ Chí Minh City is a right policy as the facilities will serve the national industrialization and modernization," stressed the PM.
Inspite of obtaining achievements in its operation, the Park is still slow in coming up with complete infrastructure and attracting investment, the PM said, asking relevant ministries and agencies to promptly adjust the Park's overall scheme and speed up related works.
The PM assigned the Electricity of Việt Nam to directly invest in electricity infrastructural facilities in the Park.
In terms of investment, PM Dũng said the registered projects need to be carefully examined to ensure that they will meet requirements and criteria of the Park.
The PM noted that related agencies should adopt mechanisms, preferential policies and incentives to attract more investment as well as skilled laborers and professionals to work in the Park.
The Hòa Lạc Hi-tech Park was established in 1999 on a land area of nearly 1,600 ha.
At present, it is home to 61 projects, worth more than VND 31,000 billion, 29 of which is being launched and 17 were put into operation. The management board considers to license over other 50 projects valued at VND 44,000 billion.
By Thùy Dung