PM receives US Senator
VGP – PM Nguyen Tan Dung on May 28 in Ha Noi hosted a reception for US Senator Benjamin Cardin, Chairman of the Senate Foreign Relations Subcommittee on East Asian and Pacific Affairs who is on a working visit to Viet Nam.
May 28, 2014 10:20 AM GMT+7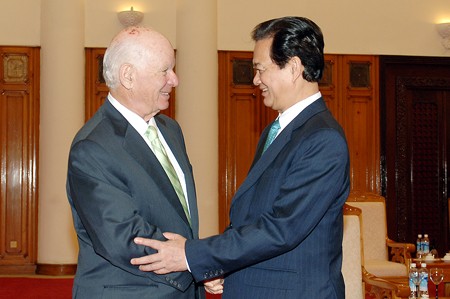 PM Nguyen Tan Dung (R) and US Senator Benjamin Cardin, Ha Noi, May 28, 2014 - Photo: VGP/Nhat Bac
PM Nguyen Tan Dung hailed the senator's tour as positively contributing to continuing to deepen the Viet Nam-US comprehensive partnership in a more practical manner.
Viet Nam, said PM Dung, respects for and hopes to shake hands with the US in numerous fields in favor of mutual benefits and development.
According to the host leader, Viet Nam stands ready to talk with the US about cooperative issues of mutual concern and negotiations for the Trans-Pacific Partnership Agreement.
The Government leader took the occasion to thank the US for voicing opposition against the illegal action of China to place Haiyang Shiyou – 981 drilling rig in Viet Nam's exclusive economic zone and continental shelf. He also hoped that the US would continue to make stronger voice to condemn China's actions which are contradictory to international laws.
In addition, PM Dung also proposed the US provide more support for Viet Nam's efforts to address unexploded ordnance (UXO) consequences and clean up Agent Orange (AO) contamination.
For his part, Senator Benjamin Cardin briefed the host leader of the outcomes of his talks with National Assembly Chairman Nguyen Sinh Hung and Deputy PM, FM Pham Binh Minh.
The US hopes to promote the comprehensive ties with Viet Nam for mutual development, said Mr. Benjamin Cardin.
He expressed his belief that Viet Nam, the US and other countries would early finalize the negotiations for the TPP Agreement with a view to opening respective markets, transforming economic development models and spurring cooperation in economics, trade and investment.
Senator Benjamin Cardin affirmed that the US would continue to work with Viet Nam in UXO clearance and AO contamination issues, environmental protection, climate change response and sea level rise.
He also expressed his deep concern over the provocative actions of China which extremely violate international laws, the 1982 United Nations Convention on the Law of the Sea (UNCLOS), destabilize the situation and directly threaten peace, stability, security, and freedom of navigation in the East Sea. The Senator also recommended peaceful solutions to the disputes on the basis of international laws.
The guest also revealed that upon the working visit to Viet Nam, he would attend the 2014 Shangri-La Dialogue in Singapore and bring the case of the HaiyangShiyou – 981 drilling rig and complicated developments in the East Sea to the upcoming event for discussion./.
By Huong Giang