PM receives Japanese special advisor
VGP - PM Nguyen Tan Dung received visiting special advisor to the Japan-Viet Nam Friendship Parliamentary Alliance Tsutomo Takebe in Ha Noi on November 16.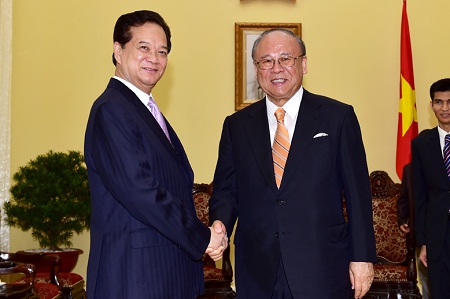 Photo: VGP
PM Dung lauded Takebe's visit to attend the Japan Festival in Ho Chi Minh City and push the establishment of the Viet Nam-Japan University (VJU).
Appreciating the guest's contributions to Viet Nam-Japan relations, the host expressed his pleasure with sound developments of the Viet Nam-Japan strategic partnership and affirmed that the Vietnamese Government attaches importance to deepening bilateral ties effectively in all aspects to bring practical benefits to both peoples.
The PM stressed the significance of the VJU project, a symbol of cooperation between the two countries, and expressed his gratitude to PM Shinzo Abe's attention and support to the project.
He spoke highly of the Japanese side's thorough preparations for the operation of project and affirmed that he would continue directing relevant Vietnamese agencies to coordinate with the Japanese side to put the university into operation soon.
Takebe informed the host of the project's progress to operate the VJU, saying that the university would organize an entrance examination for the master degree in March 2016 and launch the course in September 2016.
The university will have faculties in full with 6,000 students by 2020 with a target of turning the VJU into one of the leading quality universities in Asia, he added.
Takebe said that the Japanese Government established an intersectoral committee to implement the project and a consultant committee to call on investment from Japanese organzations and enterprises.
The Japan side also made organizational and human resource preparations and pledged a funding of up to JPY20 billion to ensure the university's operation, he added.
He noted that the Japan Festival in Ho Chi Minh City was successful, attracting over 220,000 visitors to diverse and significant activities and contributing to promoting friendship and mutual trust and understanding between the two nations and people from both countries.
By Vien Nhu