PM receives CEO of Harbinger Capital Partners LLC
VGP – PM Nguyen Xuan Phuc welcomed and appreciated the operations of the United States' Harbinger Capital Partners LLC (Harbinger) in Viet Nam at a reception for Philip Falcone, the fund's chief executive officer (CEO), in Ha Noi on January 12.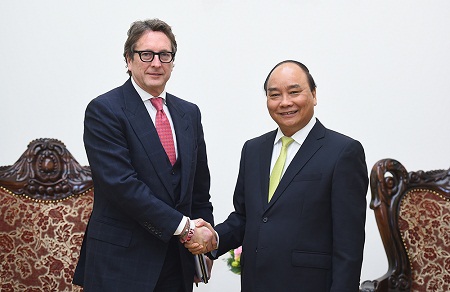 PM Nguyen Xuan Phuc (R) and LLC CEO Philip Falcone, Ha Noi, January 12, 2017 Photo: VGP/Quang Hieu
The government leader informed the guest of a number of Viet Nam's active policies in improving the local business climate and creating favorable conditions for foreign investors, while affirming that Viet Nam treasures ties with the U.S. and wishes to boost bilateral cooperation, particularly in the fields of trade and investment.
He suggested Harbinger continue expanding investment in Viet Nam and function as a connection bridge for U.S. enterprises to accelerate investment in the country, thereby taking advantage of the new opportunities from the active and profound development of the comprehensive partnership between Viet Nam and the US in the time ahead.
The host also called on the Harbinger CEO and U.S.companies to actively support Viet Nam to successfully organize the APEC Year 2017.
For his part, Phil Falcone reported to the PM on the implementation progress of the US$4.2 billion Tram Lake project in Ba Ria-Vung Tau province. This is considered the largest foreign invested project in Viet Nam in the field of tourism, with 4,000 jobs created and active contribution to the local budget.
The guest said he is planning to expand cooperation and investment in Viet Nam and actively encourage US investors to pay further attention to Viet Nam, thus contributing to boosting economic, trade and investment ties between the two countries in the future.
He asked the Vietnamese government to continue creating favorable conditions for U.S. companies, including Harbinger, to do long-term and stable business in Viet Nam.
By Vien Nhu