PM Praises Good Deeds Sowed By Vu A Dinh Scholarship Fund
VGP – Prime Minister Nguyen Xuan Phuc praised the practical contributions of Vu A Dinh Scholarship Fund to social development in the nation on the occasion of the fund's 22th founding anniversary.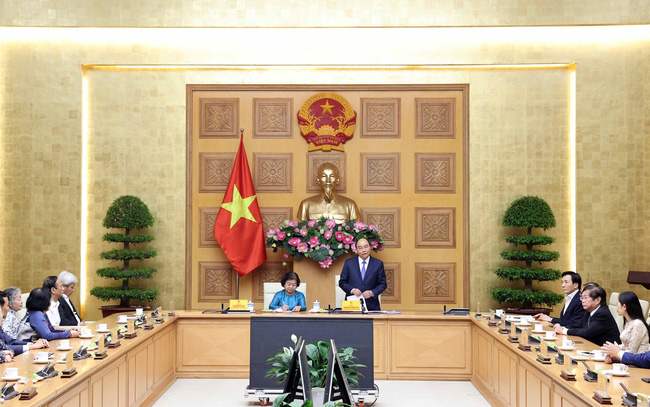 Prime Minister Nguyen Xuan Phuc (standing) at the meeting with members of the Vu A Dinh Award, Ha Noi, March 15, 2021
Established in 1999, the fund was named after Vu A Dinh (1934-1949), an ethnic Mong in the northern mountainous province of Dien Bien. Dinh was a young ethnic liaison boy killed during the French resistance war and received the title of Hero of the People's Armed Forces in 2000.
For the past 22 years, the fund has mobilized over VND 352 billion from more than 5,000 donors and spent part of the money to provide nearly 85,000 scholarships to ethnic minority students nationwide.
Last year alone, the fund and the Club "For Beloved Hoang Sa and Truong Sa archipelagos" presented 8,000 scholarships to children of ethnic minorities and islands.
The fund has also financed construction of 17 schools, including two schools in Truong Sa archipelago, six roads, 39 bridges, and 166 houses in mountainous regions and ethnic minority areas.
PM Phuc stressed that the government has pursued its commitment for leaving no one behind and it can only be achieved with good deeds sowed by such stakeholders like the fund currently led by former Vice State President Truong My Hoa.
Viet Nam is home to 54 ethnic groups and 53 of which are minority groups, accounting for approximately 15% of the country's population. Nevertheless, ethnic minorities make up a staggering 47% of the poor population of Vietnam. One of the factors contributing to the increasing number of poor ethnic minorities is that ethnic minority children face challenges in accessing a quality education./.
By Kim Anh