PM Phuc proposes deferring 36th ASEAN Summit to late June due to COVID-19
VGP – Prime Minister Nguyen Xuan Phuc has proposed ASEAN counterparts to defer the upcoming 36th ASEAN Summit and the ASEAN - New Zealand Leaders' Summit, until the later half of June 2020 in Da Nang.
March 19, 2020 10:37 PM GMT+7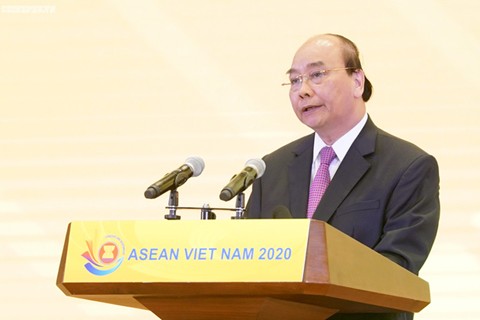 Prime Minister Nguyen Xuan Phuc
>>> Full Chairrman's Statement on ASEAN Collective Response to COVID-19 Outbreak
The move was made as the novel coronavirus (COVID-19) has continued to spread across the region and the world, prompting the World Health Organization to declare it a pandemic on March 11.
In his letter addressed to his ASEAN peers, PM Phuc wrote that "Viet Nam will further consult with ASEAN Member States on the specific date of the Summits."
Over the past time, Viet Nam has made active efforts and at this stage, has completed necessary preparations for the 36th ASEAN Summit, affirmed Phuc.
Given the complex developments of the COVID-19, "thanks to your support and that of other ASEAN leaders, the Chair has issued an ASEAN Chairman's Statement reflecting our collective will to strengthen cooperation in response to the COVID-19 outbreak," Phuc added.
He expressed his confidence that with shared determination and joint efforts, in the spirit of solidarity, caring and mutual support, the ASEAN Community shall have the strength to stand strong before all challenges, and secure peace for its peoples and prosperity for its members.
Phuc took the occasion to expres sincere appreciation for the wholehearted support and collaboration that ASEAN leaders have extended to Viet Nam as the ASEAN Chair in 2020, to move forward a cohesive and responsive ASEAN Community and successfully realizing the ASEAN Community Vision 2025.
On the occasion, PM Phuc also sent a letter to New Zealand's Prime Minister Jacinda Ardern to inform her about his proposal on rescheduling the ASEAN – New Zealand Leaders' Summit which had been planned to be held back-to-back the 36th ASEAN Summit in Da Nang on April9.
However, as the COVID-19 expanded its complex developments in the region and the world, Phuc said he asked other ASEAN Leaders to defer the meetings until the later half of June 2020.
"The specific date will be decided after consultations with other ASEAN Member States. I seek your understanding on this decision, and look forward to welcoming you in Viet Nam for an official visit when the ASEAN-New Zealand Leaders' Summit convenes," Phuc wrote.
By Quang Minh