PM Phuc, Japanese PM Abe discuss COVID-19, bilateral ties over phone call
VGP – Prime Minister Nguyen Xuan Phuc and Japanese Prime Minister Abe Shinzo discussed on COVID-19 fight and bilateral ties over phone call on Monday afternoon.
May 04, 2020 7:22 PM GMT+7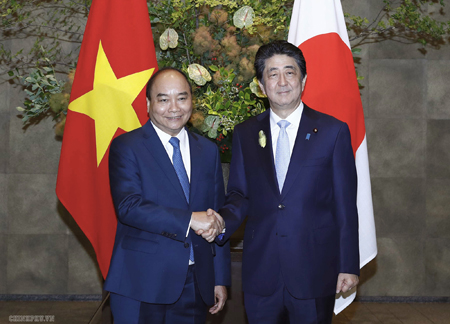 Prime Minister Nguyen Xuan Phuc shakes hands with Japanese Prime Minister Abe Shinzo before their summit meeting in Tokyo, Japan on July 1, 2019. Photo: VGP
The two leaders agreed to cooperate closely in overcoming the pandemic which has become global crisis affecting all countries.
Thanks to high determination, drastic measures and public support, Viet Nam has basically controlled the COVID-19, paving the way for the nation to gradually resume normal socio-economic activities, said Phuc.
He thanked the Government of Japan for having offered US$1.8 million to the Southeast Asia country to combat COVID-19, announcing the Government of Viet Nam has decided to donate 140,000 face masks to Japan.
Abe spoke highly of Viet Nam's measures and achievements in COVID-19 prevention and control and extended thanks to the Government and people of Viet Nam for donation of medical supplies.
Both sides affirmed to continue efforts to ensure safety for their citizens. PM Abe said his Government decided to hand out a coronavirus stimulus of ¥ 100,000 per individual, including Vietnamese living and working in Japan.
The two PMs agreed to continue working closely in strengthening exchanges and cooperation across all fields. PM Abe affirmed Japan will continue offering the second support package to help Viet Nam cope with the disease and actively assist Viet Nam in fostering economic growth.
The pair also agreed to continue close coordination at regional and international forums. PM Phuc highly valued the initiative put forward by Japan at the ASEAN 3 Special Summit, held on April 14, on establishment of a center for disease control.
Phuc suggested the Japanese side support the ASEAN's COVID-19 Response Fund and Reserve of Essential Medical Supplies.
Abe affirmed to continue collaborating closely with Viet Nam over regional and international issues of common concerns and in forging the signing of the Regional Comprehensive Economic Partnership (RCEP) in 2020./.
By Huong Giang