PM Phuc hosts welcome ceremony, holds talks with Lao counterpart
VGP – Prime Minister Nguyen Xuan Phuc hosted welcome ceremony for Lao counterpart Thongloun Sisoulith, who is on three-day official visit to Viet Nam, at the Presidential Palace in Ha Noi on Tuesday afternoon.
&nbsp
Lao Prime Minster Thongloun Sisoulith is accompanied by Minister of Foreign Affairs Saleumxay Kommasith, Minister-Chairman of the Government Office Phet Phomphiphak, Minister of Planning and Investment Souphanh Keomixay, Minister of Transport Bounchanh Sinthavong, Minister of Energy and Mining Khammany Intharath, Minister of Education and Sports Sengdeuane Lachanthaboune among others.
The visit, which takes place in the context that the Viet Nam-Laos ties are advancing well, is expected to further consolidate the traditional friendship, special solidarity and comprehensive cooperation between the two countries.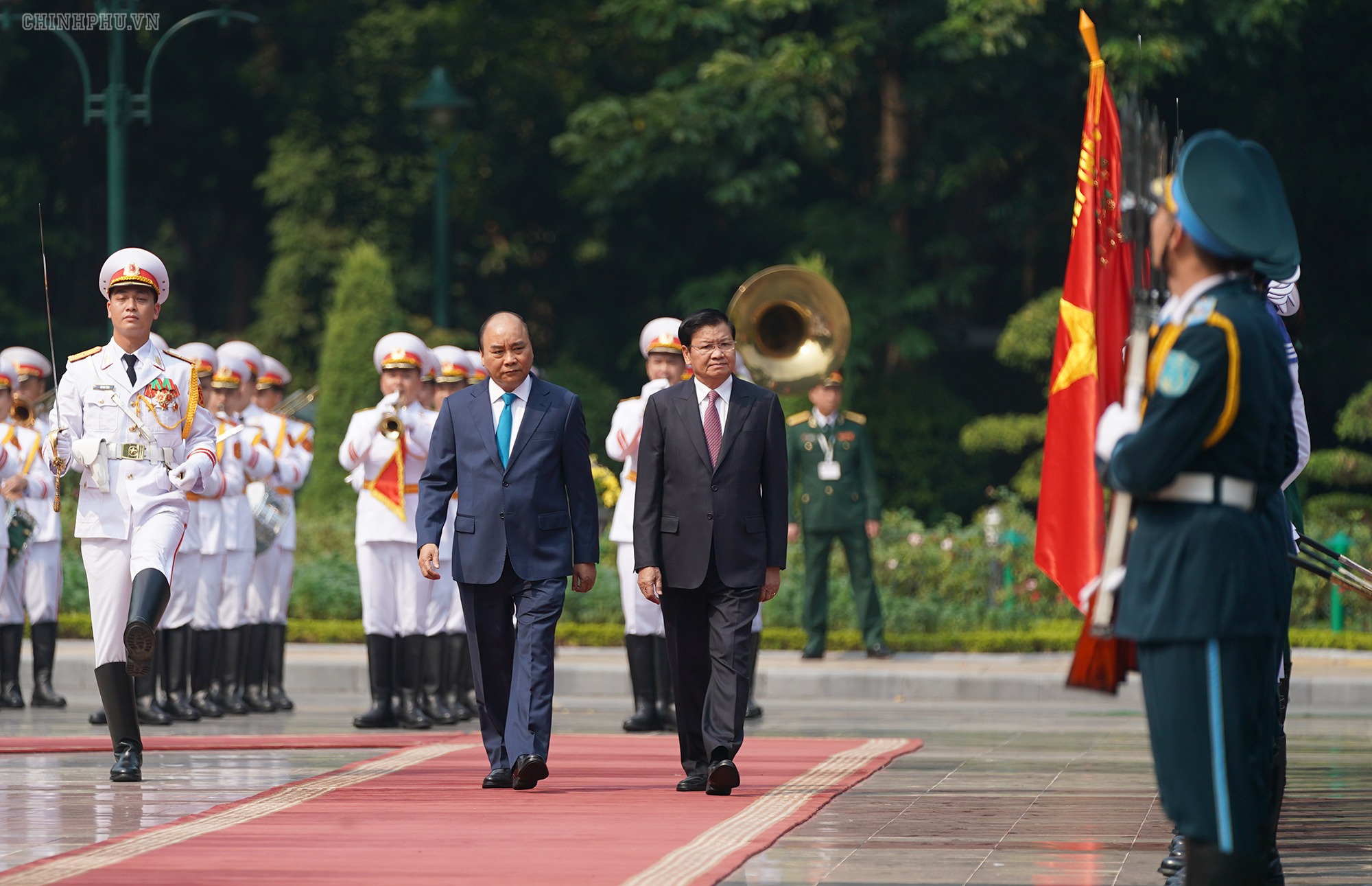 Prime Minister Nguyen Xuan Phuc hosts welcome ceremony for Lao Prime Minister Thongloun Sisoulith at the Presidential Palace in Ha Noi on October 1, 2019. Photo: VGP
Over the pas years, the politics-diplomacy cooperation has been strengthened through regular exchanges of visits at high, ministerial and local levels while defense and security has emerged to be a key pillar of the bilateral ties.
The two countries have coordinated closely and supported each other at regional and international forums, particularly both sides have continued enhancing cooperation with each other and with other ASEAN member States in building the ASEAN Community and maintaining the bloc's solidarity and consensus over the strategic matters, including the East Sea issue.
Laos has actively advocated Viet Nam to become a non-permanent member of the United Nations Security Council for the tenure 2020-2021 and undertake the ASEAN Chairmanship in 2020.
Both sides have also maintained close collaboration with each other and with other countries and international organizations in sustainable management and use of Mekong water resources in order to ensure the harmonization of interests of the relevant countries.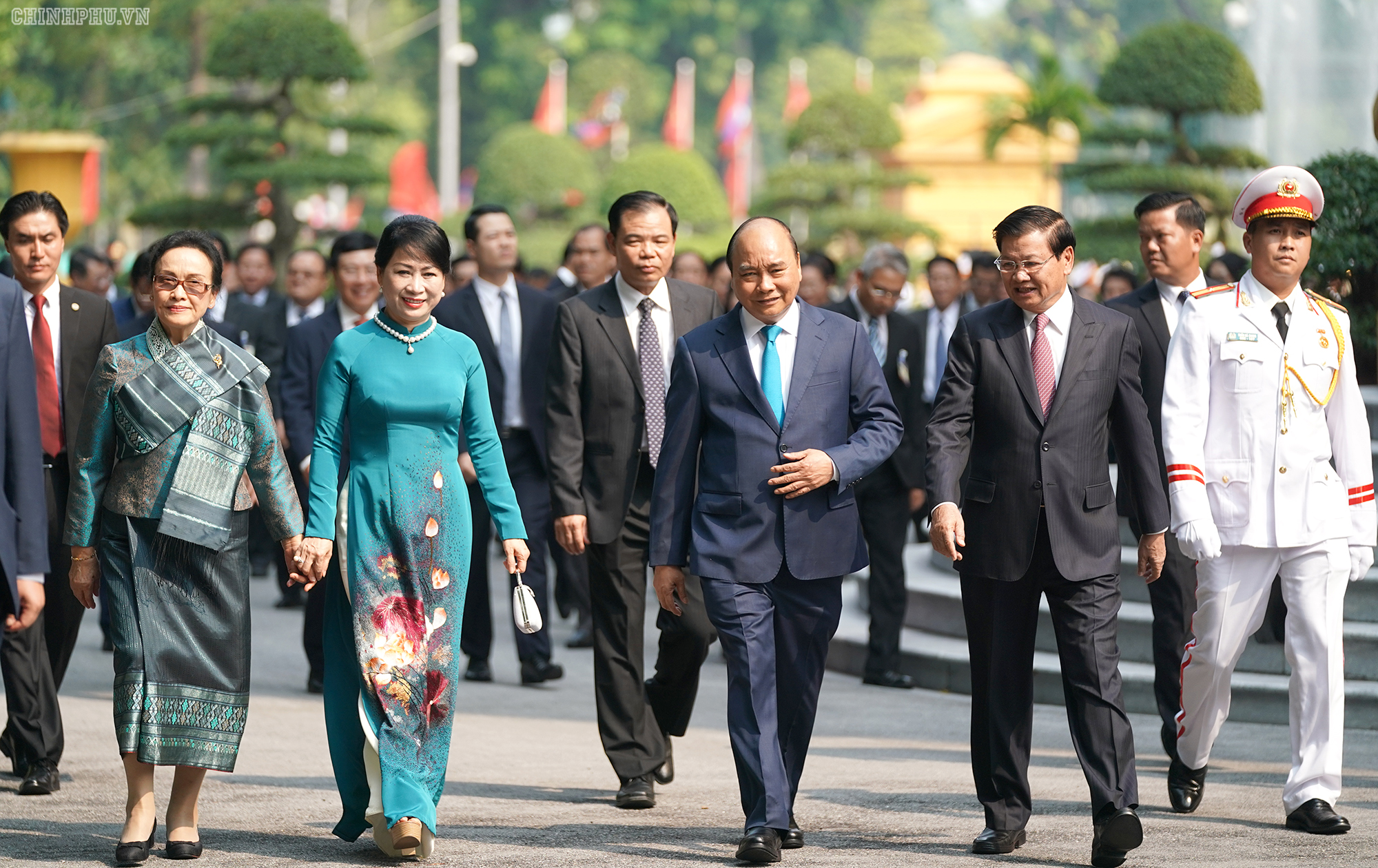 The two Prime Ministers and their Spouses walks from the Presidential Palace to the Headquarters of the Government Office for bilateral talks. Photo: VGP
In terms of economic and trade, the two-way trade reached over US$1 billion last year and US$784 million in the first eight months of 2019.
The sides have actively implemented bilateral trade agreements in order to sustain two-digit trade growth annually.
Viet Nam is the 3rd biggest foreign investor in Laos with 411 projects capitalized at US$4.22 billion, focusing in such fields like hydropower, mineral exploitation, agriculture and telecommunication, according to the Lao Ministry of Planning and Investment.
Last year, Viet Nam offered 1.271 Government scholarships to Laos, raising the total Lao students in Viet Nam to 14,656./.
By Ngoc Van