PM orders detailed plan for coronavirus pneumonia prevention
VGP - Prime Minister Nguyen Xuan Phuc has ordered the healthcare sector to envisage a more detailed plan for prevention and control of novel coronavirus (nCoV) pneumonia as the epidemic is worsening in China.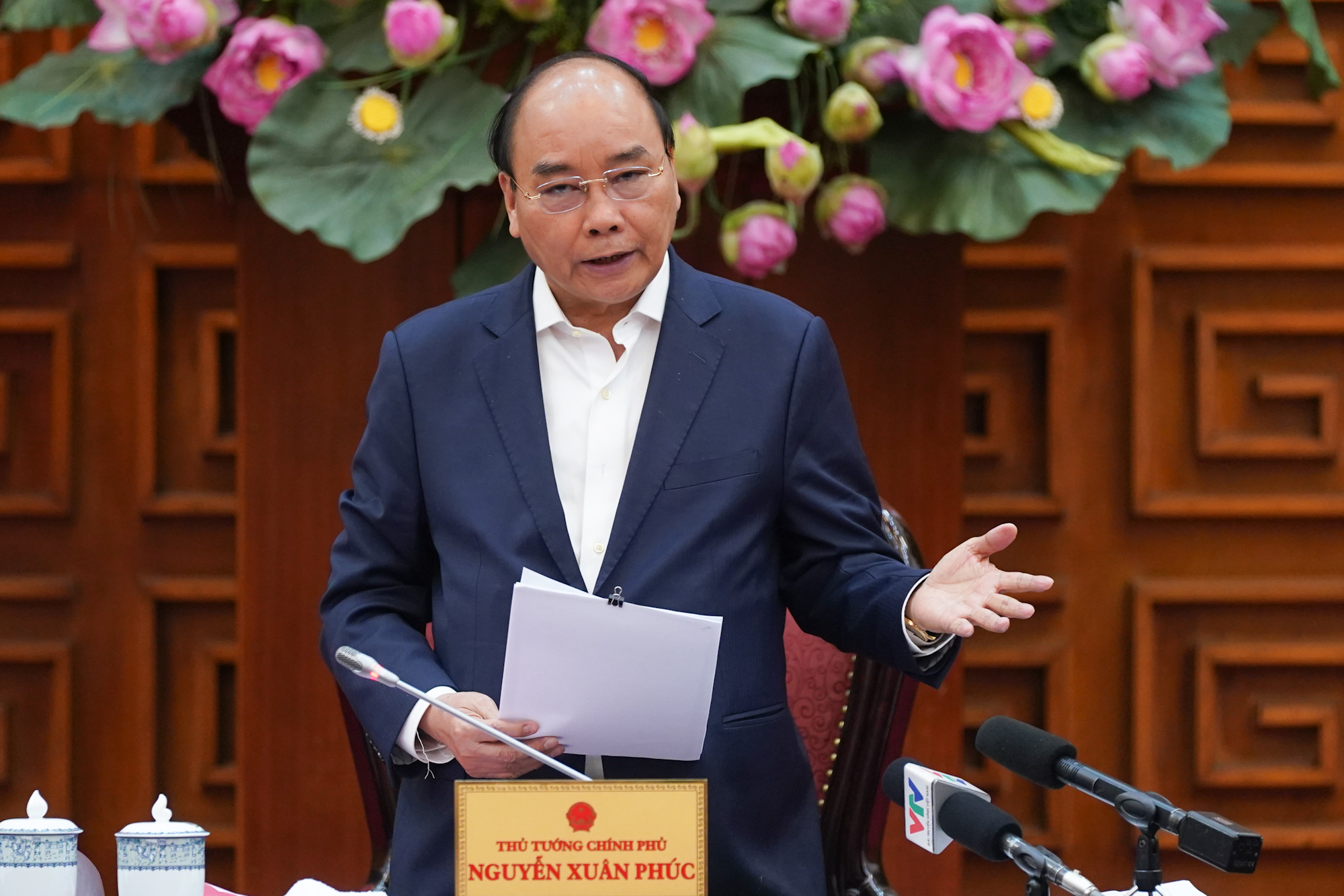 Prime Minister Nguyen Xuan Phuc presides over a meeting on prevention and control of novel coronavirus (nCoV) pneumonia at the Government Office in Ha Noi on Monday. Photo: VGP
The healthcare sector was also tasked to develop treatment therapy for assigned treatment facilities and prepare sufficient medicines and equipment for treatment, Phuc said while presiding over a meeting on Monday.
He asked for establishment of a national steering agency for prevention and control of the epidemic, led by Deputy Prime Minister Vu Duc Dam.
Information dissemination needs to be stepped up with a focus on preventive measures in order not to cause public anxiety while tourist companies shall not be allowed to conduct flights to and from epidemic regions, PM Phuc stressed.
Border crossing shall only be at international border gates and main border crossings and strictly comply with preventive measures like body temperature checks and compulsory health declarations, Phuc said.
The import and transport of wildlife into Viet Nam shall be temporarily banned.
Phuc asked the Ministry of Foreign Affairs and the Ministry of Labor and Invalids and Social Affairs to coordinate in identifying the number of Vietnamese in China to take necessary measures.
As Viet Nam shares the land border with China and many Chinese tourists are still in Viet Nam, the epidemic is more likely to spread to the Southeast Asian country. PM Phuc requested that relevant agencies, sectors and localities must not be subjective or underestimate the disease so as to ensure the ultimate goal of protecting people's health and lives, curb the virus from spreading on a large scale, and minimize deaths from this disease.
According to the Ministry of Health, there have been almost 2,800 nCoV-infected cases around the world, including 80 deaths all of whom are in Wuhan city of China's Hubei province. China alone has recorded 2,747 cases in 30 provinces and cities. Fifteen other countries and territories have reported 50 patients of the disease.

In Viet Nam, there have been 63 cases who showed fever symptoms and returned from nCoV-affected areas. They consist of 25 negative for the virus and 38 still kept in quarantine, including the two Chinese nationals initially tested positive for nCoV at the Cho Ray Hospital in Ho Chi Minh City.

Deputy Minister of Transport Le Anh Tuan said as directed by his ministry, Vietjet Air conducted four flights carrying Wuhan passengers from Viet Nam back to Wuhan international airport. None of them showed signs of nCoV infection./.
By Huong Giang
Follow us on Twitter @VNGovtPortal