PM leaves for WEF East Asia & Philippines tour
VGP – PM Nguyen Tan Dung on Wednesday led a Vietnamese high-ranking delegation to head to the Philippines to attend the World Economic Forum on East Asia 2014 (WEF East Asia 2014) and later visit the country.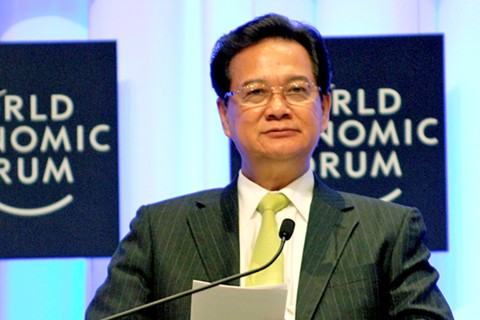 PM Nguyen Tan Dung
The attendance and visit on May 21-22 was made at the invitation of Chairman of the WEF Klaus Schawab and Philippine President Benigno S. Aquino III.
The PM was accompanied by Minister-Chairman of the Government Office Nguyen Van Nen, Minister of Agriculture and Rural Development Cao Duc Phat, leaders of the Ministry of National Defense, the Ministry of Public Security, the Ministry of Planning and Investment, the Ministry of Foreign Affairs and the Ministry of Industry and Trade.
The Government leader is expected to partake in and deliver a speech at the plenary session of WEF East Asia 2014; join as a special guest at the "Asia development" Initiative themed "ASEAN Agriculture and Food Security Agenda" and "Promotion of ASEAN Economic Community though Public-Private Partnership"; and chair a dialogue with leaders of some regional and international corporation and enterprises at the event.
Viet Nam has positively participated in WEF activities over recent years, especially by successfully hosting the WEF on East Asia in Ho Chi Minh City in 2010. Earlier, PM Dung attended the WEF on East Asia in 2012 and 2013 in Thailand and Myanmar.
On this occasion, PM Dung will also have a working visit to the Philippines to cement and deepen the multifaceted ties between the two countries.
In November 2002, the two sides reached the Framework for Comprehensive Cooperation in the 25 first years of the 21st century and beyond.
In October, 2011, they signed the Viet Nam-Philippines Action Plan for the period 2011-2016 which set forth orientations for the cooperative ties in numerous areas and agreed to elevate relations to the strategic level.
Two-way trade between the two countries stood at over US$ 2 billion in 2008-2011. It touched nearly US$ 2.9 billion in 2012 and US$ 2.6 billion in 2013.
Since 2008, Viet Nam has gained a trade surplus of over US$ 1 billion with the Philippines chiefly by selling rice./.
By Huong Giang