PM inspects border control in southern border province
VGP – Prime Minister Pham Minh Chinh toured the Vinh Nguon border checkpoint in Chau Doc city of the southern border province of An Giang to inspect border control and management there.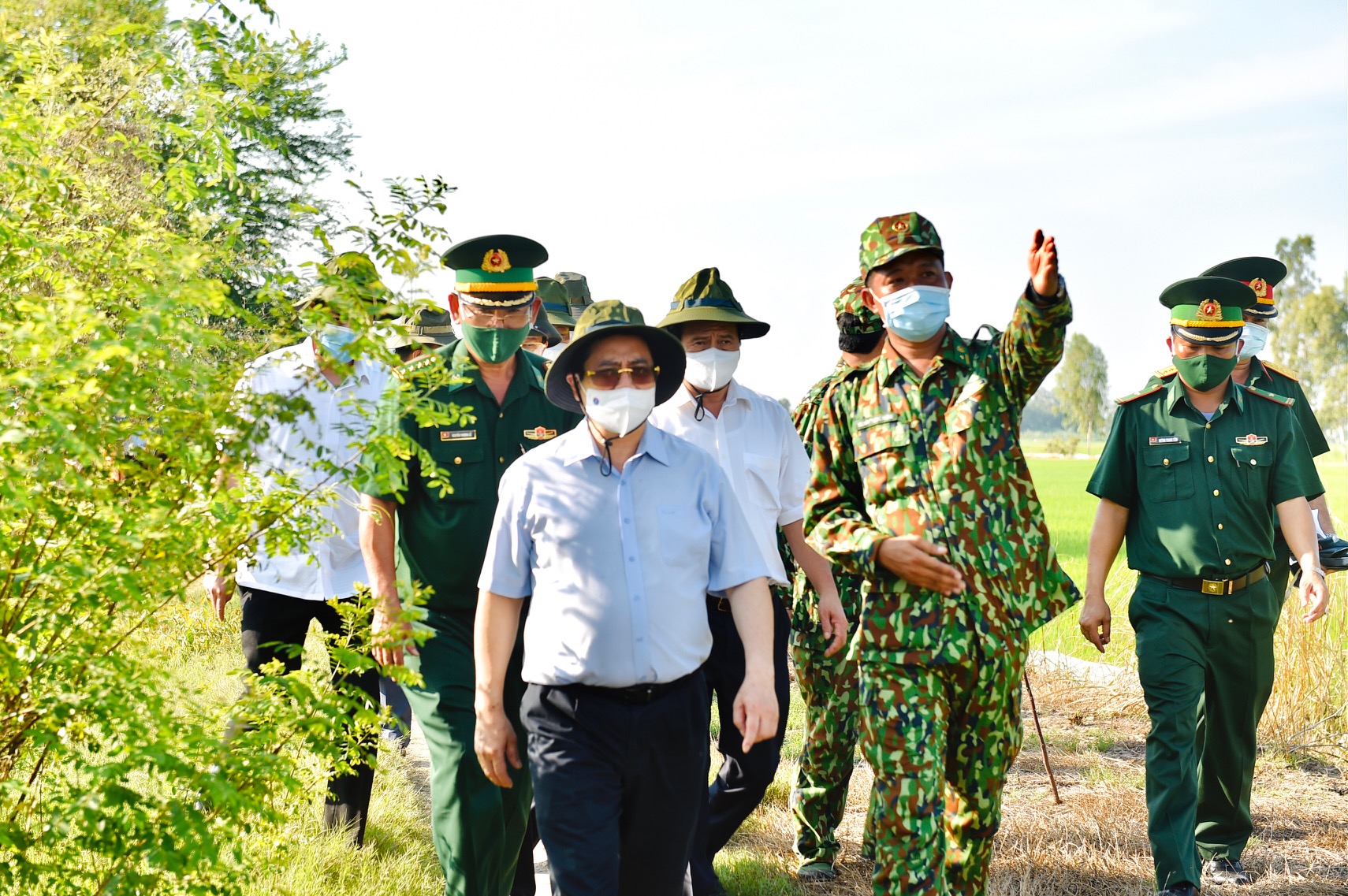 Prime Minister Pham Minh Chinh inspects border control and management in the southern province of An Giang on May 9, 2021. Photo: VGP
The move was made amid complex and swift evolution of the COVID-19 pandemic, with 333 community infection cases confirmed over the last 10 days.
In addition, the number of entrants from Cambodia is expected to keep rising in the coming days as the neighboring country had lifted lockdown.
Speaking to the soldiers, the Government chief commended them for their tireless efforts to prevent illegal immigration and smuggling.
He urged the border guard force to continue close collaboration with other forces and local authorities to prevent importation of COVID-19 into Viet Nam.
Pham emphasized that outbreaks of COVID-19 can happen at any time and anywhere, thus it is necessary to prepare for all scenarios, especially the establishment of field hospitals in An Giang and the neighboring province of Dong Thap.
Earlier the same day, Pham chaired an urgent meeting with leaders of six Southern provinces of An Giang, Binh Phuoc, Dong Thap, Kien Giang, Long An, and Tay Ninh to evaluate the pandemic situation and design appropriate and effective response measures.
The Government chief named four reasons leading to the recent surge of local infections, including occurrence of negligence and subjectivity, improper implementation of preventive measures, emergence of multiple outbreaks, and complex developments of the pandemic in several neighboring countries.
He demanded local leaders of all levels demonstrate the highest sense of responsibility and they shall be fined if the pandemic spreads widely.
Meanwhile, local authorities must sustain vigilance and focus on early detection of infections and rapid isolation to quickly stamp out the outbreaks and prevent new ones.
As of 8:00 pm on Sunday, Viet Nam's COVID-19 caseload reached 3,332, including 2,602 recoveries and 35 fatalities./.
By Quang Minh