PM highlights importance of peace and stability in U.S.-ASEAN relations
VGP – Both ASEAN and the U.S. should regard the maintenance of peace and stability as the top priority, remarked Vietnamese Prime Minister Pham Minh Chinh.
May 13, 2022 12:17 PM GMT+7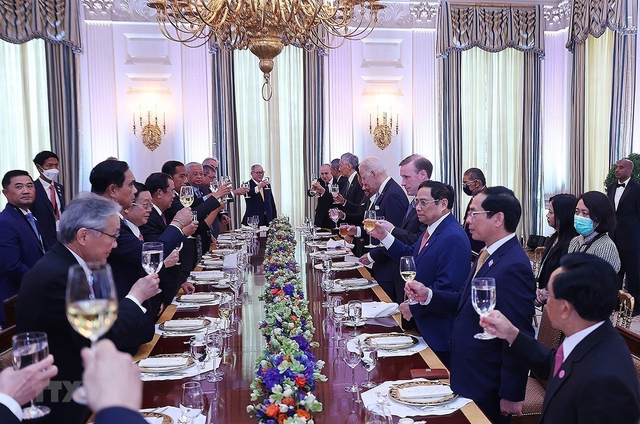 Pham stressed the point at the banquet for ASEAN leaders hosted by U.S. President Joe Biden on May 12 (local time) in Washington D.C.

He expects the U.S. would always back ASEAN centrality in the processes in Asia-Indo-Pacific, continue contributions to shaping new orientations for the ASEAN-led cooperation frameworks for a harmonious and balanced environment in the region.
Pham also called on the U.S. to engage in sincere dialogues with ASEAN on the basis of trust and responsibility and support the settlement of differences by peaceful measures in accordance with international law, the United Nations Charter and the Treaty of Amity and Cooperation in Southeast Asia (TAC).
The U.S. should assist ASEAN in green and sustainable development, economic restructuring, technological application, digital transformation, renewable energy, and comprehensive and sustainable recovery, the Vietnamese Prime Minister suggested.
ASEAN also hopes that the U.S. would promote cooperation initiatives within the framework of the Mekong-U.S. partnership, contributing to ensuring development quality in the region.
Given complicated impacts and consequences of non-traditional challenges, Pham called for a global approach in addressing global issues.
He asked the U.S. to cooperate with and assist ASEAN in consolidating and enhancing the bloc's healthcare capacity, share experience and transfer vaccine production technologies, and help ASEAN to deal with other challenges such as environmental degradation and climate change.
Addressing the event, President Biden warmly welcomed the ASEAN leaders, regarding this as a great opportunity for the two sides to evaluate and orient relations.
Leaders of both ASEAN and the U.S. voiced support for the establishment of a comprehensive strategic partnership, and expressed their hope that the relationship will develop more substantively and effectively for mutual benefits.
President Biden affirmed that the U.S. expects to elevate the ASEAN-U.S. relations, supports ASEAN centrality and the ASEAN Outlook on the Indo-Pacific (AOIP).
He announced a package of initiatives worth more than US$150 million to attract the private sector to invest billions of dollars into cooperation projects in areas such as trade-investment, supply chain stabilization, health capacity building, maritime cooperation, infrastructure development, education, human resource, energy, climate change response, sustainable development./.