PM: Each day should be a law day
VGP - PM Nguyen Tan Dung has noted that implementing the Constitution and laws significantly contributes to building a socialist law-governed state and protecting human rights and citizens' fundamental rights and responsibilities and makes each day a law day.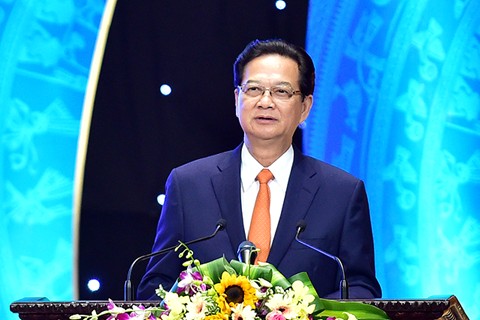 Photo: VGP
PM Dung made the statement at a ceremony held in Ha Noi on November 9 responding the 2015 Law Day and summarizing a writing contest on studying Viet Nam's Constitution.
The Law Day was officially announced to be the country's Law Day on November 9, 2013, aiming to honor the Constitution and laws and improve public awareness of legal respect.
PM Dung recognized that the Law Day has become an important legal and political event, contributing to the country's socio-economic achievements and the construction of a law-governed stated for human rights, rights, freedom and mastership of citizens.
He stressed the celebration's significance as Viet Nam is actively integrating into the international community, saying that during the three decades of the renewal process, the country's breakthroughs have been accompanied by decisive institutional improvements to enhance and ensure democracy.
To improve effectiveness and practicality of the contest and the celebratory day, PM Dung asked the Ministry of Justice (MOJ)
, central agencies and organizations and local authorities to enhance their leadership in directing and organizing the Law Day with a focus on implementing the Institution, ensuring people's rights and socialism-oriented market economy, realizing new laws and boosting administrative reforms.
He also urged relevant agencies to create deep changes in law conformity in society and better train the human resources serving the legal system proficiently and effectively.
At the ceremony, the Government leader presented a special prize of the contest to lecturer Nguyen Thi Dac Huong from the Institute of Politics under the Ministry of Defence.
Over the past two years, the Law Day has been responded by people from all walks of life, bringing initial important results and contributing practically to the country's socio-economic development achievements.
The contest on studying Viet Nam's Constitution has attracted great attention from people and soldiers nationwide, as well as overseas Vietnamese with nearly five million entries sent to the MOJ.
By Vien Nhu