PM Dũng holds talks with Ukrainian counterpart
VGP – PM Nguyễn Tấn Dũng and his Ukrainian counterpart, Mykola Azarov, deliberated on measures to boost the two countries' future cooperation, especially in economics, trade and investment, during their talks in Kiev on October 5.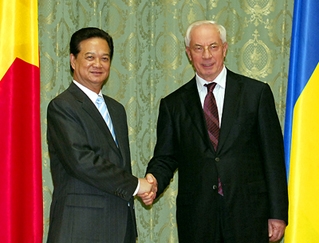 PM Nguyễn Tấn Dũng (L) and Ukrainian counterpart, Mykola Azarov, Kiev, October 5, 2011 - Photo: VGP
The two PMs informed each other about the political and socio-economic situation and foreign policy of their respective countries and exchanged views on bilateral ties as well as regional and international issues of common concern.
PM Mykola Azarov affirmed that developing the friendship and cooperation with Việt Nam on a mutually beneficial basis is one of the priorities in the Ukraine 's foreign policy.

PM Dũng stressed Việt Nam always attaches importance to consolidating and developing relations with traditional friends, including the Ukraine.
The two sides agreed on the great prospects for the Việt Nam-Ukraine cooperation and comprehensive partnership, which was set up during the Ukrainian President's visit to Việt Nam in March 2011.
Both government leaders agreed to continue completing a legal foundation for bilateral ties and enhance the operations of the Vietnam-Ukraine Intergovernmental Committee for Economic, Trade, Scientific and Technical Cooperation.
They also discussed measures to support import-export activities and remove bilateral trade barriers in an effort to double two-way trade between Việt Nam and the Ukraine in 2012 from US $260 million in 2010.
The leaders affirmed a commitment to focus on the maximum and effective exploitation of investment cooperation potential between the two countries, especially in energy, mechanical engineering, machinery manufacturing, chemicals and shipbuilding.
The two sides will endeavour to implement signed agreements in banking, agriculture and telecommunications in order to expand cooperation in these potential areas, as well as study possibilities for cooperation in other fields, including high technology, aviation and space science.
The government leaders stressed the importance of continuing to boost cooperation in military techniques, education and training, science and technology and culture.

The two sides expressed pleasure at the close coordination between the two countries at international forums and agreed to continue to develop that fine tradition.
The PMs expressed their belief that the comprehensive cooperation and partnership between Vietnam and the Ukraine would continue to see new and active development in every field, providing benefits to both sides and to celebrate the 20th anniversary of diplomatic ties between the two countries in 2012.
After the talks, PM Dung and PM Mykola Azarov witnessed the signing of the minutes of the 12 th meeting of the Ukraine-Việt Nam Intergovernmental Committee for Economic, Trade, Scientific and Technological Cooperation, and a memorandum of understanding between Hà Nội National University and Kiev National University.
The PMs also met with the media, affirming the wish and determination of the two countries to realise their full potential to serve cooperation and development.
By Hương Giang