PM discusses bilateral ties with Thai counterpart, ASEAN-UN partnership with Secretary General
VGP – Prime Minister Nguyen Xuan Phuc met with Thai counterpart Prayut Chan-o-cha and United Nations Secretary General Antonio Guterres on the sidelines of the 35th ASEAN Summit and related Summits in Bangkok, Thailand on November 2.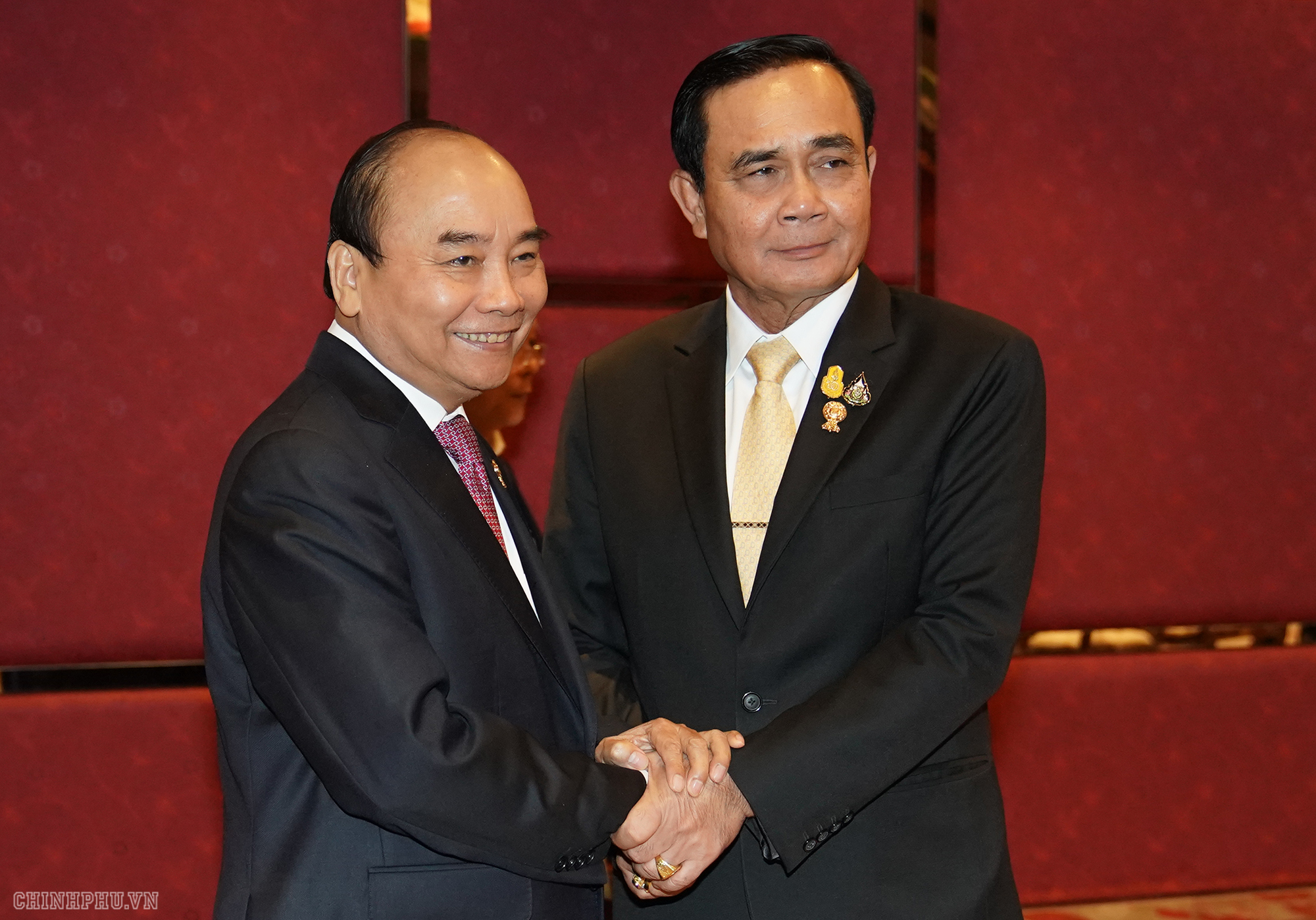 Prime Minister Nguyen Xuan Phuc (left) meets with Thailand's Prime Minister Prayut Chan-o-cha in Bangkok, Thailand on November 2, 2019 on the occasion of the 35th ASEAN Summit and related Summits. Photo: VGP
Phuc expressed his belief Thailand will continue sustainable development and successfully fulfill its 2019 ASEAN Chairmanship role under the leadership of the Thai counterpart.
He extended sympathies to Prayut over the losses caused by floods last September.
The Vietnamese Government chief expects both countries to coordinate closely in effectively deepening their strategic partnership across fields like trade and investment, labor, security-defense among others.
He suggested Prayut facilitate the flow of Vietnamese exports to Thailand and create favorable conditions for Vietnamese community to live and integrate into the host society.
Meanwhile, Thai PM suggested the two countries strengthen coordination in addressing regional matters such as air pollution and water resource security while seeking more measures to increase the two-way trade.
Both sides agreed to step up collaboration in achieving the ASEAN Community's common goals, strengthening ASEAN centrality, beefing up cooperation with the bloc's partners, and settling regional security matters, including the East Sea issue.
Prime Minister Nguyen Xuan Phuc meets with United Nations Secretary General Antonio Guterres in Bangkok, Thailand on November 2, 2019. Photo: VGP
At his meeting with the United Nations Secretary General, Phuc affirmed Viet Nam supports multilateralism and determine to realize the 2030 sustainable development goals and the Paris Climate Agreement.
Phuc also voiced support for Guterres' efforts in reforming the United Nations' development system.
He pledged that Viet Nam stands ready to make more effective contributions to the United Nations' peace-keeping operations and advocate Guterres' Action for Peace (A4P) initiative.
For his part, Guterres said Viet Nam is a pioneer in many fields of sustainable development, poverty reduction.
Appreciating Viet Nam's effective engagement in peace-keeping operations, Guterres wishes Viet Nam to promote its role in climate change adaptation and clean energy development.
The pair agreed to further accelerate cooperation and connectivity between ASEAN and the United Nations during Viet Nam's ASEAN Chairmanship 2020 and UNSC non-permanent membership.
Regarding the East Sea situation, the two leaders shared their the need to ensure peace, stability, freedom, and security of navigation and aviation, and to soon conclude a Code of Conduct in the East Sea under the spirit of respecting international law and the 1982 United Nations Convention on the Law of the Sea.
PM Phuc took the occasion to invite Guterres to visit Viet Nam next year and the latter accepted the invitation with pleasure./.
By Quang Minh