PM demands more proactive COVID-19 testing
VGP – Prime Minister Pham Minh Chinh demanded more proactive and active testing as the COVID-19 pandemic remains complicated in several localities.
May 15, 2021 7:55 PM GMT+7
Prime Minister Pham Minh Chinh chairs a working session with the Ministry of Health, Ha Noi, May 15, 2021. Photo: VGP
The Government chief stressed the point at his working session with the Ministry of Health on Saturday.
According to Deputy Minister of Health Do Xuan Tuyen, Viet Nam has 175 laboratories capable of conducting 66,000 samples per day, using real-time polymerase chain reaction (RT-PCR) technology.
The daily capacity could be increased to 290,000 samples if necessary and 2.9 million samples in case of pool testing (which means combining respiratory samples from five or ten people in one laboratory test to detect SARS-CoV-2 that causes COVID-19, Do said.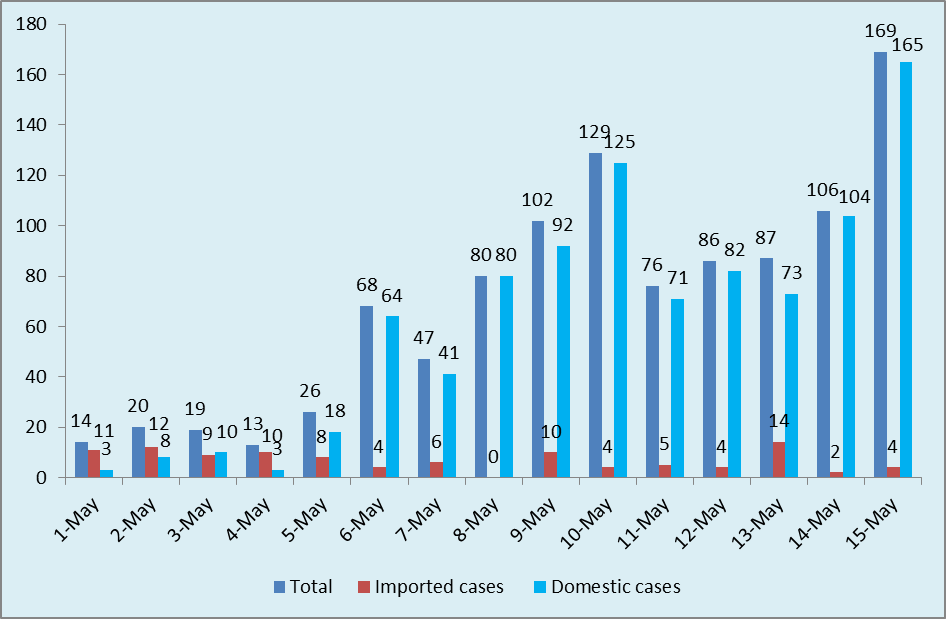 The number of daily new COVID-19 cases confirmed from May 1-15.
All localities are now capable of conducting RT-PCR tests but 12 out of 63 cities and provinces nationwide can't perform confirmatory tests, Do added.
Regarding COVID-19 vaccines, PM Pham urged the ministry to seek every supply sources, including vaccine technology transfer while stepping up research, development and production of vaccines.
Pham also called on localities such as Ha Noi and Quang Ninh to provide support and assistance to provinces that are struggling to fight COVID-19 outbreaks.
He reiterated the need to continue sustaining vigilance and staying calm as the country is on the right track in the fight against the pandemic.
Pham also took the occasion to commend health workers across the nation for their great sacrifices and contributions in this fight, calling on them to continue staying strong to protect the public's health and ensure safety for the upcoming national general election day which falls on May 23.
Viet Nam confirmed 169 COVID-19 cases on Saturday, raising the national patient tally to 3,985, including 2,668 recoveries and 36 deaths./.
By Thuy Dung