PM demands fast responses to curb COVID-19 spreading
VGP – Prime Minister Nguyen Xuan Phuc asked for prompt preparations as well as fast and effective responses to curb the COVID-19 pandemic that is spreading fast cross the world, at a meeting Friday.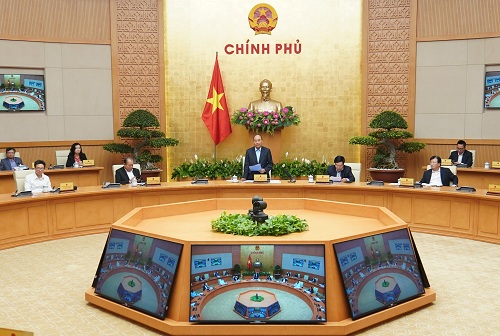 Prime Minister Nguyen Xuan Phuc (standing) presides over a meeting on COVID-19 prevention and control in Ha Noi on March 13, 2020. Photo: VGP
>>> Health declaration MANDATORY for all incoming travelers
The request was made as the number of infections outside China has increased by 13 times over the past two weeks while Viet Nam has reported 28 new patients since last Friday.
The Government chief also asked all levels, sectors and people not to be subjective as the pandemic would knock out us should we respond slowly.
He called for seeking every measure to minimize transmission sources and all stricken areas must be localized and sterilized in a timely manner.
He ordered mobilization of capable doctors and enough medical devices to cure COVID-19 patients in a bid to minimize fatality risk.
All people need to wear facemasks at such public places like supermarkets, transport vehicles while foreigners are requested to wear facemasks upon arrival.
Viet Nam has confirmed 44 infection cases so far, of whom 16 had been cleared of the virus and the rest have been reported since March 6, according to the Steering Committee for COVID-19 Prevention and Control.
In addition, 28,979 have been medically monitored due to having been in close contact for coming from affected areas. Of the total, 440 people are being quarantined at hospitals, 11,557 people at centralized quarantine areas, and 16,982 people at home.
As of 3 pm on Friday, the virus has spread to 109 countries and territories with 133,931 infection cases, including 4,945 fatalities./.
By Ngoc Van