PM clarifies relations with China at National Assembly hearing
VGP – PM Nguyen Tan Dung clarified questions regarding the relations between Viet Nam and China raised by legislators at the National Assembly's accountability hearing on November 18.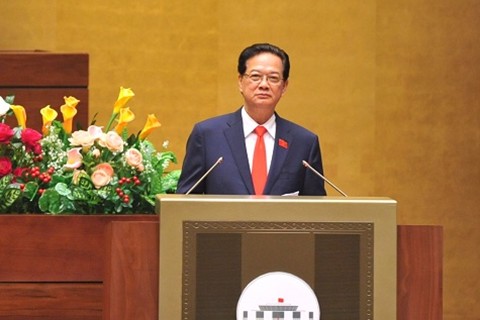 Photo: VGP/Nhat Bac
Deputies Nguyen Anh Son (from Nam Dinh Province), Truong Trong Nghia (from Ho Chi Minh City) and Le Nam (from Thanh Hoa Province) questioned the protection of sovereignty over seas and islands, the economy's potential dependency on China in various areas, and the Government's solutions in response to China's land reclamation in the East Sea.
PM Dung stated that the Government has so many times presented issues related to sovereignty disputes and complex happenings in the East Sea and the relationship between Viet Nam and China at the National Assembly meetings.
The Party and State's clear, consistent, suitable, viewpoints and guidelines have gained a number of achievements but also faced difficulties and challenges.
Viet Nam has consistently realized the Party's standpoints, viewpoints and guidelines to address the issues of deputies' concerns. Accordingly, the PM stressed three key issues in the relations with China.
Firstly, Viet Nam does its utmost to strengthen the cooperative and fair relations with China in all fields for the sake of both.
Secondly, Viet Nam consistently struggles to protect the national independence, sovereignty and benefits based on guidelines and resolutions of the Party, the Constitution and laws and the United Nations Charter, international law, especially the United Nations Convention on the Law of the Sea 1982 and the regional commitments.
Thirdly, along with the socio-economic development, Viet Nam needs to strengthen the national defense and security, improve diplomatic works, maintain social order and safety, enhance the great unity bloc and the aggregated strength of the whole nation, take advantage of the support of the international community and create a peaceful and favorable environment for nation-building and development.
By Thuy Dung