PM calls for Brazil's support for early negotiation of FTA with MERCOSUR
VGP - Prime Minister Pham Minh Chinh suggested Brazil promote the negotiations of a free trade agreement (FTA) between Viet Nam and the Southern Common Market (MERCOSUR).
May 22, 2023 9:00 PM GMT+7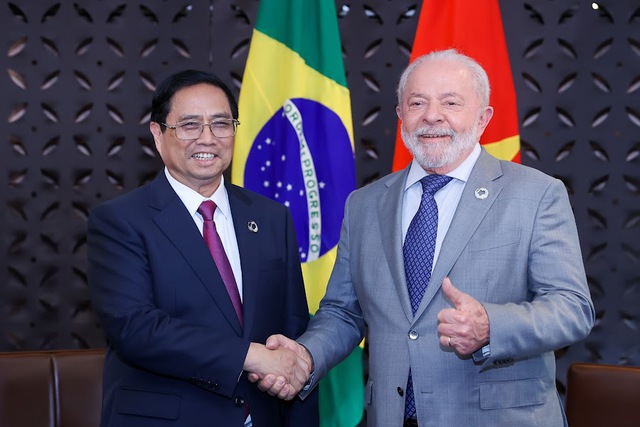 The Vietnamese Government chief made the suggestion during a meeting with Brazilian President Luiz Inacio Lula da Silva on the sidelines of the G7 outreach meeting in Hiroshima, Japan on May 21.
At the meeting, the two leaders were pleased to see the good progress of bilateral relations over the past time, particularly the two-way trade has grown rapidly.
For years, Brazil has been Viet Nam's largest trading partner in Latin America, with trade turnover reaching a record of US$6.78 billion in 2022.
He affirmed that Viet Nam wishes to further strengthen the comprehensive partnership with Brazil, one of its leading important partners in the region.
Both sides agreed to continue coordination and mutual support at international organizations and multilateral forums, especially at the United Nations, the World Trade Organization (WTO), and other multilateral forums to which the two sides are members.

Viet Nam is willing to act as a bridge to strengthen the relationship between ASEAN and Brazil, and between ASEAN and MERCOSUR, said Prime Minister Pham.
In reply, President Lula da Silva agreed with the proposals of PM Chinh, especially on supporting the early start of negotiations for a free trade agreement between Viet Nam and MERCOSUR.
The President suggested the two countries continue to promote practical cooperation in all aspects, especially in trade, agriculture, people-to-people exchanges, and coordination at international organizations and multilateral forums.
Trade between Viet Nam and the Americas, which houses 35 countries, including Mercosur member nations, stood at US$153.9 billion last year, an annual growth of 10.7 percent,
Of the total, Viet Nam's import and export value hit over US$128 billion and $25.7 billion, up 12.2 percent and 3 percent year-on-year, respectively, hence a historic trade surplus of more than US$102.5 billion./.