PM asks Pfizer to deliver 22 million vaccine doses for children under 12 at the earliest
VGP – Prime Minister Pham Minh Chinh asked Pfizer to deliver 22 million vaccine doses for children from 5 to under 12 years of age at the earliest and try to complete the contract no later than May this year.
February 16, 2022 9:58 AM GMT+7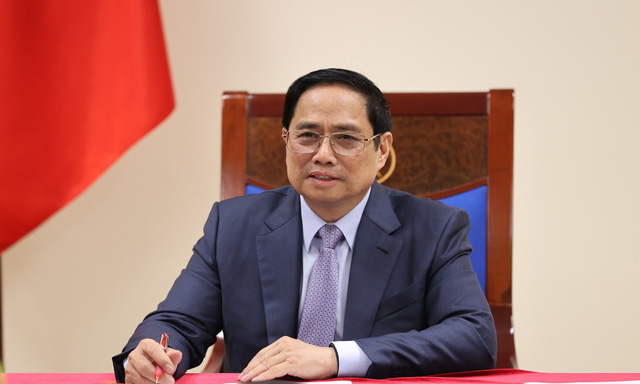 The Government chief made the request during his phone conversation with Pfizer Chairman and CEO Albert Bourla on Tuesday.

The move aims to help Viet Nam soon reopen schools safely amid complicated evolution of the COVID-19 pandemic, Pham said.
Pham also asked Pfizer to regularly share information on development of its new vaccines with Viet Nam, affirming the Government stands ready to create most favorable conditions for Pfizer to cooperate with the Southeast Asian country in pharmacy sector.
Pham took the occasion to extend thanks to Pfizer and Chairman and CEO Bourla for having supplied 51 million vaccine doses to Viet Nam.
To date, nearly 96 percent of children aged 12-17 in Viet Nam received at least one dose of Pfizer vaccine and nearly 90 percent of them were fully vaccinated against COVID-19, Pham added.
Thanks to close cooperation of Pfizer as well as timely vaccine support from foreign countries, including the U.S., Viet Nam has successfully realized its vaccination strategy in a short period of time, thereby helping the country to gradually revive its economy, PM Pham emphasized.
On the occasion, Pham invited Bourla to Viet Nam as a guest of the Prime Minister to discuss and promote a long-term cooperation plan.
For his part, Bourla affirmed that he will make every effort to accelerate the implementation of the new contract as soon as possible so that the vaccine could be delivered to Viet Nam in the coming weeks.