Phu Yen develops sea tourism
VGP - Phu Yen, with nearly 200km of coastline and many national-ranked natural landscapes, is an attractive destination for millions of tourists every year.
February 21, 2023 4:54 PM GMT+7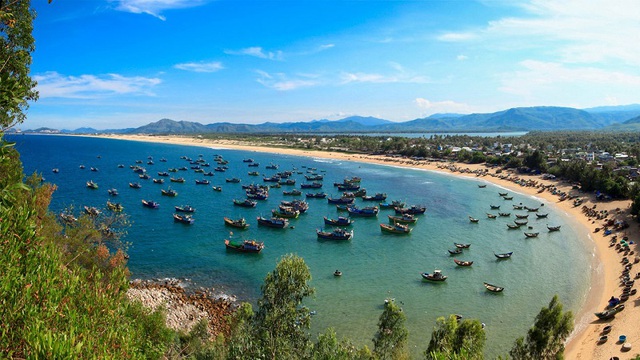 From the beginning of 2023 until now, despite unfavorable weather, tourists still flock to Phu Yen at a high rate, many times higher than in the same period last year.
Specifically, the total number of tourists to Phu Yen reached 494,500 turns, 4.5 times higher than last year, of which 2,430 were foreign arrivals, up 3.8 times higher on year.
Total tourism revenue reached VND674.9 billion, 5.2 times higher than the same period last year; in which accommodation revenue rose by 2.6 times to VND95.5 billion.

Visitors to Phu Yen mainly come from Ho Chi Minh City, Ha Noi, Da Nang, Binh Dinh, Khanh Hoa, and the Central Highlands provinces. These are good signals of Phu Yen tourism, contributing to promoting local socio-economic development.
To achieve the above results, Phu Yen has made many efforts in mobilizing resources to invest in building infrastructure for socio-economic development associated with tourism development; diversifying and improving the quality of tourism products, accommodation facilities and entertainment places.
Thanks to these efforts, in 2022, Phu Yen Tourism was ranked third in the top 10 trending tourism keywords on the Google search engine in Viet Nam.
The South Central province has issued a plan for investment and development of tourism in 2021-2025, striving to become a key economic sector of the province by 2030.
To maximize the province's potential and advantages for rapid and sustainable development, Phu Yen has determined that attracting investment, including investment in coastal tourism, is an important political task.
Up to now, Phu Yen has 36 coastal tourism projects, with a total registered capital of VND42,811 billion.
Additionally, over the years, the province has used most of the public investment capital for developing the transport system, thereby significantly transforming and changing its transport infrastructure./.