PCA legal status in Viet Nam acknowledged
VGP – Deputy Minister of Foreign Affairs Ho Xuan Son and Secretary-General of the Permanent Court of Arbitration (PCA) Hugo Hans Siblesz on June 23 signed the Host Country Agreement and an Exchange of Letter on cooperation between Viet Nam and the PCA.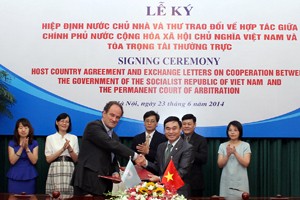 Photo: VGP/Hai Minh
Accordingly, Viet Nam officially confirmed the legal status of the PCA in Viet Nam, allowing the PCA to launch peaceful measures on international conflicts and provide suitable assistance for inter-governmental organizations and entities in Viet Nam.
These two documents are expected to boost up the cooperation between the two sides, especially in terms of information exchange, training and consultancy.
Mr. Hugo Hans Siblesz revealed that the signing of these two documents will help Viet Nam get access to arbitration procedures, enhance the respect of law and contribute to dealing with regional conflicts.
The PCA, an inter-governmental organization with 115 members, is established to treat with intentional conflicts with peaceful measures. Viet Nam joined the PCA on December 29, 2011.
By Thuy Dung