Party General Secretary begins official visit to China
VGP – General Secretary of the Communist Party of Viet Nam Central Committee (CPVCC) Nguyen Phu Trong arrived in Beijing on Sunday afternoon, starting his official visit to China at the invitation of Party General Secretary and President of China Xi Jinping.
October 30, 2022 3:07 PM GMT+7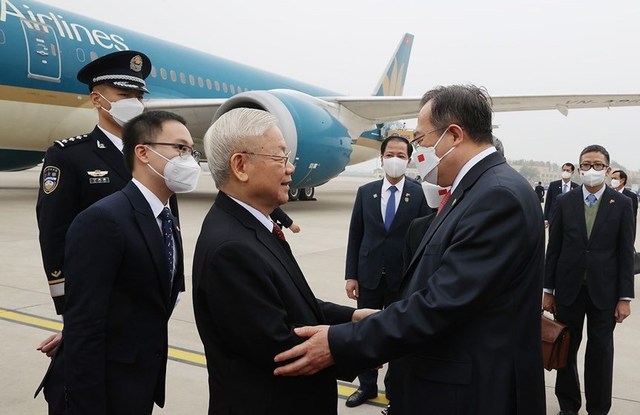 The Party chief is accompanied by Politburo member, Standing member of the CPVCC's Secretariat Vo Van Thuong; Politburo member, Head of the CPVCC Organization Commission Truong Thi Mai; Politburo member, Head of the CPVCC Commission for Internal Affairs Phan Dinh Trac; Politburo member, Vice Chairman of the National Assembly Tran Thanh Man; Politburo member, Minister of Public Security To Lam; Politburo member, Minister of National Defense Phan Van Giang; Secretary of the CPVCC's Secretariat, President of the Viet Nam Fatherland Front Central Committee Do Van Chien; Secretary of the CPVCC's Secretariat, Chairman of the CPVCC Office Le Minh Hung; Secretary of the CPVCC's Secretariat, Deputy Prime Minister Le Minh Khai; and Ambassador of Viet Nam to China Pham Sao Mai.

Nguyen is the first foreign leader to visit China following the 20th National Congress of the Chinese Communist Party.
The visit demonstrates the fact that Viet Nam regards China as a top priority in its foreign policy and expects to advance the bilateral ties in a long-term, stable and increasingly effective and practical manner in line with the common perceptions reached by the leaders of the two countries
Viet Nam and China established diplomatic relations on January 18, 1950 and elevated the bilateral ties to comprehensive strategic cooperative partnership in 2008.
Friendship and cooperation have been the mainstream of the Viet Nam-China relations over the past seven decades.
Viet Nam has been the largest trading partner of China in ASEAN and the sixth largest trading partner of China in the world.
In 2021, the two-way trade increased by 24.6 percent to US$165.9 billion from the previous year. In the first eight months this year, the figure reached US$117.4 billion, up 10.8 percent on year.
On investment, China ranks 6th out of 139 countries and territories investing in Viet Nam with 3,453 valid projects capitalized at US$22.42 billion.
In January-September period, Chinese businesses poured about US$1.4 billion in 143 projects in Viet Nam./.