Party Central Committee convenes third meeting
VGP – The Party Central Committee on October 6 convened its third plenary session to discuss socio-economic development issues and regulations on the implementation of the Party statute.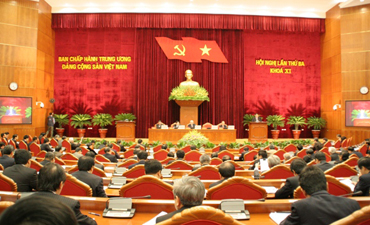 The overview of the 3rd meeting of the Communist Party of Việt Nam Central Committee, Hà Nội, October 6, 2011 - Photo: VGP
The Party Central Committee will also give opinions on the socio-economic performance in 2011; as well as orientations, goals and tasks of socio-economic development plans for 2012 and the 2011-2015 period.
Party General Secretary Nguyễn Phú Trọng asked the whole Party, people and army to resolutely realize the 11th Party Congress' Resolution along with efforts to control inflation, stabilize macro-economy and ensure social welfare.
The Party chief underlined the importance of making accurate assessment and forecasts for formulating proper policies, instructions, and key goals, enhancing investment efficiency, and restructuring investment mechanism, financial market, banking system, financial organization and SOEs.
He asked the Party Central Committee to focus on discussing Party members' duties in line with the new Party statute of the 11th tenure, supplementing regulations on Party members' responsibility for exercising the rights to criticism, inquiry and recommendations to Party members and organizations.
At the session, Party central committee members will also debate the implementation of disciplines and settlement of accusations and disciplines in the Party.
The third plenary session will close on October 10 /.
By Kim Anh