Park Hang-seo to end 5-year coaching stint in Viet Nam
VGP — South Korean football coach Park Hang-seo's successful tenure with the Vietnamese men's national team will come to an end on January 31, 2023, the Viet Nam Football Federation (VFF) announced on October 17.
October 18, 2022 11:08 AM GMT+7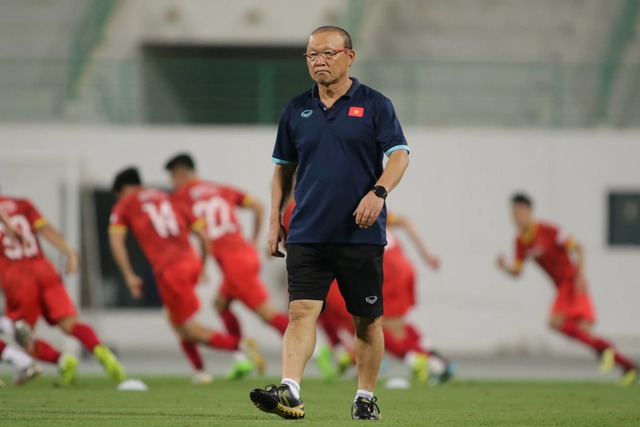 In a statement on their website, the country's football governing body said both sides would not extend their contract when it expires and the decision came to "a mutual agreement".

Park's final tournament with Viet Nam will be the ASEAN Football Federation (AFF) Championship from December 20 to January 16.
VFF General Secretary Le Hoai Anh said: "This is Park's own will; he wants to focus more on training young talents as he has said many times before. We respect this decision."
"I think the best way to describe it is a 'beautiful farewell,'" Park was quoted as saying on Chosun Ilbo's website on Monday.
Park thanked his players, the VFF and Vietnamese people for their "endless support" during his time in Southeast Asia.
"I understand the love and support I received during my time here," Park said.
"Although I am to leave my position, I will continue to dedicate myself to support Viet Nam in the near future."
The 65-year-old coach said he loved to bridge the relationship between South Korea and Viet Nam in every aspect of life including football when he was first appointed in 2017.
"This desire still remains deeply within me, and I will continue to have a role in improve the two nations' friendship," he said.
Under Park's reign, which began in October 2017, Viet Nam enjoyed remarkable achievement at both U23 and senior levels.
The country won the 2018 AFF title, their first in 10 years, and reached the quarterfinals at the 2019 AFC Asian Cup, matching their best performance at the top continental tournament.
Viet Nam also reached the final Asian qualification round for the 2022 FIFA World Cup.
Park became a hero for leading the national team to its first Southeast Asian Games title in 60 years in 2019 and successfully defended it in May.
He also took Viet Nam's U23s to second place in the 2018 Asian Football Confederation Championship and to the quarterfinals in the Asian Games later that year.
Viet Nam broke into the top 100 on Park's watch and the team currently world No 96.
"The five years I spent with Vietnam's national team was truly valuable. I thank the players, staff and the people," Park said.
"I enjoyed happy days thanks to the love I received from Vietnam's football fans," he added.
On the other side, VFF thanked Park for his "outstanding efforts and commitments" and praised Park's "strong sense of responsibility, professionalism and dedication."
The VFF added that historic success for Vietnamese football during Park's time serves as "inspiration and motivation for us to chase toward higher goals in the future".
The AFF Cup 2022 will be the last tournament with the appearance of Park on Viet Nam side. VFF hoped that he and the team will achieve the best result to close the 5-year journey between them beautifully.
The agency hoped that despite the end of contract, both the VFF and the coach would maintain a close relationship as respective partners.
VFF also wishes Coach Park and his family good health and happiness, wishes him always success on his football path in the future. /.