Oxford Professor: Vaccination is by far best protection against COVID-19
VGP - Vaccination is by far the best protection against COVID-19, said Ho Chi Minh City-based Oxford University Clinical Research Unit (OUCRU)'s Director, Professor Guy Thwaites in a recent interview with the VGP.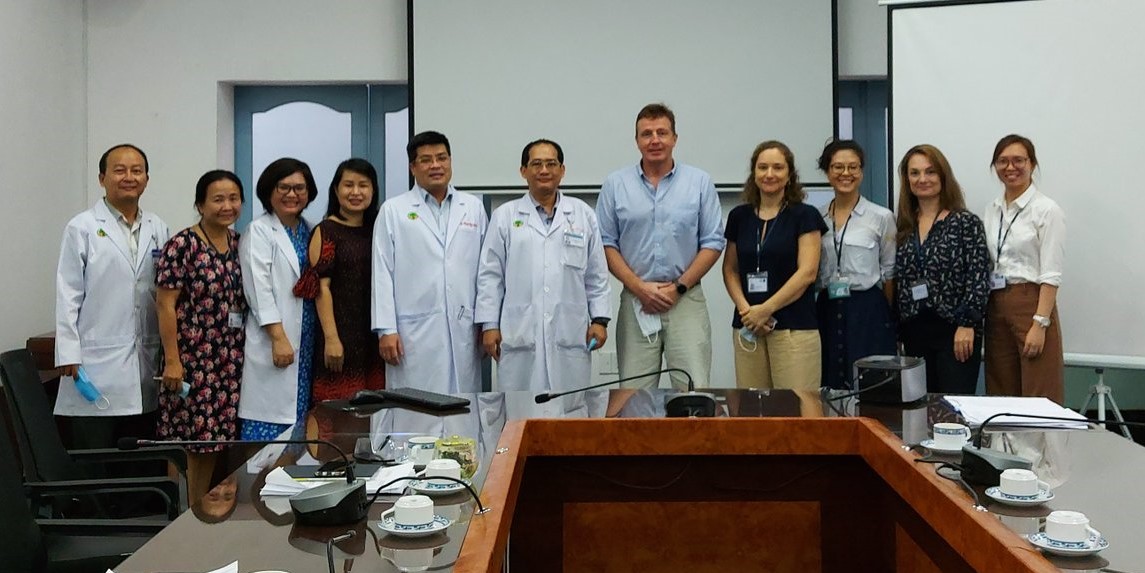 Ho Chi Minh City-based Oxford University Clinical Research Unit (OUCRU)'s Director, Professor Guy Thwaites (fifth to the right) meets doctors at the Children's Hospital 2 - Photo: Guy Thwaites' Twitter
Professor Guy Thwaites said that the Delta variant is probably 40-60 percent more transmissible than the Alpha variant. The Delta variant has the potential to overload nearly every healthcare system in the world, if it is left to spread unchecked.
However, it does not appear to be significantly more 'dangerous', in that the proportion of infected people who develop severe disease is the same as the other variants, he said, adding that it also clear that the COVID vaccines are very effective at preventing severe disease from the Delta variant.
The current surge in infections occurs in Viet Nam because the Delta variant spreads more easily than other variants, and secondly, the early spread is silent and undetected because relatively few people get ill.
Thwaites supposed that there are really only three options in containing COVID-19, including stopping the spread by detecting and isolating cases and contacts, activating population-based social distancing measures, and reducing disease by mass vaccination.
"Viet Nam is actively pursuing all of these measures. It's going to be a tough in the upcoming time, but these measures will work", he affirmed.
While Viet Nam is making efforts in pursuing the dual goal of containing the pandemic and reviving the economy, which is the same for nearly every other country in the world, he recommended that the quickest and safest way to achieve the goal is to vaccinate as many of the population as possible. However, global supply is insufficient and wealthier countries have been slow to share.
Experiences for Viet Nam in coping with Delta variant
Professor Thwaites stressed that social distancing measures will work, but may need to be longer and more rigorously enforced than for previous variants. Meanwhile, lockdowns cannot be a long-term strategy as they are too socially and economically disruptive.
Vaccination is the only long term strategy, but this can be supported by widespread availability and use of COVID rapid tests, he suggested.
In the United Kingdom, for example, these tests are provided free by the Government and people are encouraged to test themselves very regularly (once or twice a week). The tests are not perfect – they only detect those with quite large numbers of virus – but they are good at detecting those most infectious to others enabling them to isolate themselves quickly and prevent spread to others.
He underscored the need for on-going surveillance for new virus variants which might cause future problems. This is technically quite challenging, but Viet Nam is actually well-positioned to do this and has developed some good laboratories that can provide rapid information on new variants in the country.
"Forewarned is forearmed", Thwaites reiterated.
OUCRU's Director, Professor Guy Thwaites, was recently honored in the 2021 Queen's Birthday Honors List. He was appointed a Member of the Order of the British Empire (MBE) for services to public health and UK/Viet Nam relations.
Professor Thwaites has been the Director of OUCRU since 2013. He is responsible for the scientific strategy and leadership of the entire OUCRU programme, with its major research themes of emerging viral infections, dengue, brain infections, tuberculosis, malaria, enteric infections, antimicrobial drug resistance and care of the critically ill.
By Thuy Dung