"Overcome the impossible": Bac Giang's experience in battle against COVID-19
VGP - When the fourth wave of infections was at its peak, the Management Board of Bac Giang Province's Industrial Parks resolutely coordinated with individuals, businesses and the authorities across different sectors. In less than two months, 100% of enterprises in the province resumed their operations.
July 26, 2021 2:06 PM GMT+7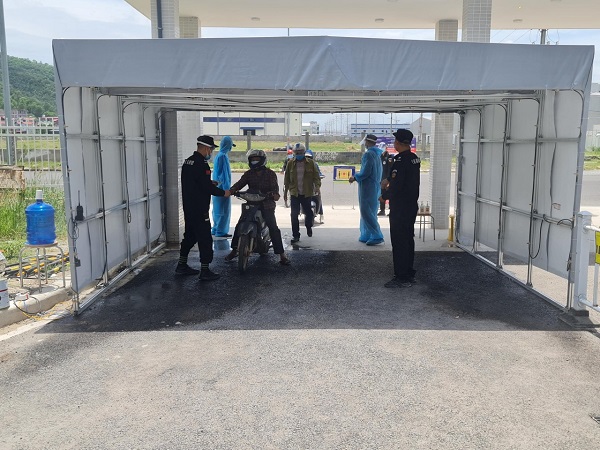 Workers receiving temperature checks before entering production facilities. Photo: VGP

11 critical days
Bac Giang's new surge in COVID-19 cases began in May - initially spreading from industrial parks, and then to multiple residential areas, negatively impacting the livelihood of the working people as well as the operations of enterprises. At one point, the outbreak in Bac Giang was the largest in the country.
As a response to these complicated developments, 4 out of 6 industrial parks in the province were asked to temporarily halt their activities, starting from May 18th. This measure was taken by the Bac Giang Provincial People's Committee in order to step up anti-pandemic efforts for 11 days.
In these 11 critical days, the authorities conducted mass screening to identify the positive cases, and disinfected the four industrial parks multiple times. This immense workload was promptly handled, and by May 28th, several firms were already allowed to resume their activities
By July 1st, there were still more than 3,000 positive cases remaining in Bac Giang - most of them, however, had already been quarantined. The authorities of Bac Giang province continued to call upon workers and businesses to strictly follow the 5K measures: "Khau trang" (face mask) - "Khu khuan" (disinfection) - "Khoang cach" (distance) - "Khong tu tap" (no gathering) - "Khai bao y te" (health declaration). After the situation was under control, the Management Board devised schemes to maintain production safety.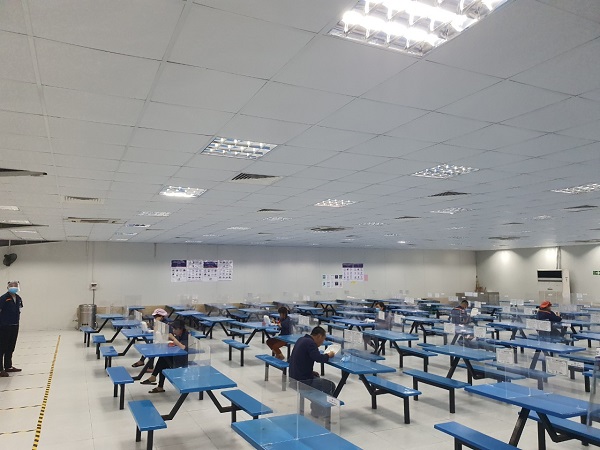 Complying with distancing guidelines in factory canteens. Photo: VGP

"3 danger zones" - "3 together" - "3 on-the-spot"
Most notably, the Management Board identified three places where COVID-19 is most likely to spread: worker accommodation areas, transportation vehicles and dining places (canteen and eateries...). Contrary to what is commonly believed, factories in fact contain less infection risks than those three places, as the 5K measures had already been implemented quite strictly prior to the outbreak.
Taking that into account, Bac Giang province combined "3 together" with "3 on-the-spot" measures: Workers were to live, eat and work together. For a while, factories themselves became quarantine centers as workers eat, live and work on the spot without leaving the premises, reducing the virus' ability to spread to a minimum. Other innovative measures were also taken: For instance, seats in factory canteens were labeled with the names of employees. In their daily meals, workers would only sit in their assigned seat. Distancing guidelines were strictly followed, and in factories with large numbers of employees, workers would take turns to have their meal in different shifts.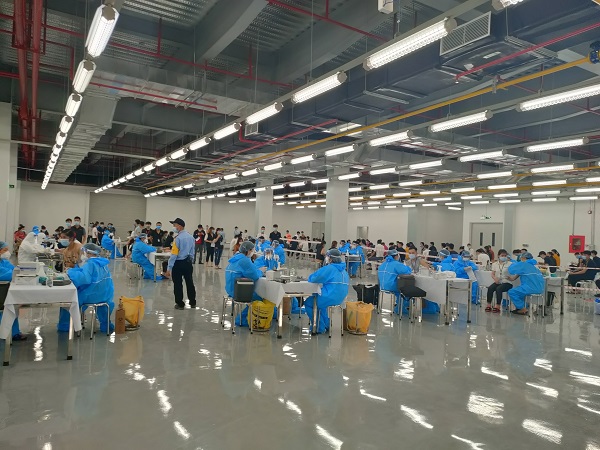 Workers getting vaccinated. Photo: VGP

The key to Bac Giang's success
According to Provincial Management Board of Industrial Parks, the participation of the entire political system is crucial to Bac Giang's success in containing the fourth wave of COVID-19 infections. The province's leadership has exhibited levelheadedness, creativity and flexibility, adapting to unpredictable and adverse situations. Coordination between different levels and branches of the State was carried out tightly, synchronously and effectively. In tough periods, Bac Giang received timely assistance from central level agencies, ministries and other localities - such as when the province had to urgently set up a field hospital with 500 beds.
Just as important is the spirit of constant vigilance - being thoroughly prepared for different scenarios that can occur instead of letting one's guards down.
On top of that, human and material resources (medical personnel and equipment) were well mobilized and diverted to the battle against COVID-19 in a concentrated manner.
Due to these factors, Bac Giang managed to carry out large scale testing, contact tracing, infection tracking and quarantine at "lightning speed". And as with previous waves, all positive cases detected in the province were swiftly transferred to hospitals for treatment. By July 24th, 100% of enterprises in Bac Giang province have resumed operations. More than 121,000 workers have returned to work - about 4 times more than the initial target (to get 30,000 workers back to work by the end of July). In the words of Mr. Dao Xuan Cuong, Head of the Provincial Management Board of Industrial Parks, Bac Giang has "overcome what was thought to be impossible".
By Quy An