Over 2,400 prisoners get amnesty on National Day
VGP - Up to 2,434 inmates are eligible for receiving amnesty in 2022, according to a decision of the President signed on the occasion of the National Day (September 2, 2022).
August 31, 2022 2:27 PM GMT+7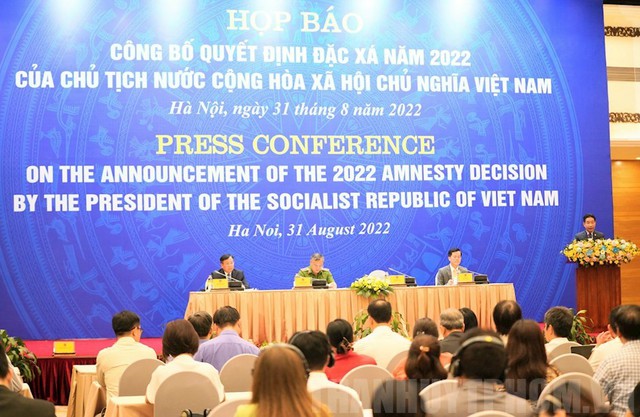 The figure was revealed at a press conference jointly held on Wednesday by the Office of the State President, the Ministry of Public Security, the Supreme People's Court, the Ministry of Foreign Affairs.
In addition to them, three others who are temporarily suspended from serving their prison sentences and one person who is being suspended from serving prison sentences are also qualified for amnesty in 2022.
Among the freed prisoners, 16 are foreigners, including an Australian, a Canadian, three Americans, four Chinese, a French, two Cambodians, a Nigerian, two Malaysians, and a Lao citizen, said Deputy Foreign Minister Ha Kim Ngoc.

Deputy Minister of Public Security Nguyen Van Long said that the prisoners paid a total of VND$ 67 billion of court fee and property obligations.
Especially, eight corruption inmates were freed.
Earlier, the interdisciplinary teams of the Amnesty Advisory Council and expert groups assisting members of the Amnesty Advisory Council have examined and appraised nearly 3,000 dossiers of inmates submitted by detention facilities' wardenship, district-level criminal judgment execution agencies, and the prisons' management board under the Ministry of National Defense.
All relevant agencies, units and localities will create favorable conditions for ex-prisoners to reintegrate into the community.
Local authorities will provide vocational training courses and encourage enterprises to employ them./.