Outstanding young faces of Viet Nam 2022 honored
VGP - The Central Committee of the Ho Chi Minh Communist Youth Union and the Viet Nam Young Talent Support Fund held a ceremony on Friday to present award to Vietnamese young faces in recognition of their outstanding contributions in 2022.
March 24, 2023 8:18 PM GMT+7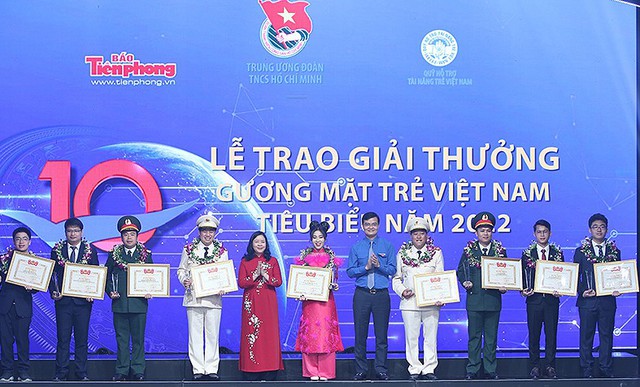 The Award Organizing Committee has received 156 nominations from 57 participating units in 10 fields, namely academic, scientific research - creativity, production labor, business - start-up, national defence, security, sports, culture and arts, social activities, administration.
The number of online votes has set a record with more than 25 million votes, an increase of 105 percent compared to the last time. This award recognizes strong growth in both quantity and quality.
The selection committee conducted a vote via software to find ten typical young Vietnamese faces in 2022 in 9 fields and ten promising young Vietnamese faces in 2022.
In Learning, two typical young faces in 2022 are Ngo Quy Dang (VNU University of Science, Viet Nam National University, Ha Noi) and Vo Hoang Hai (High School for Gifted Students, VNU University of Science).
These young people have won gold medals at international Olympic competitions since they were 10th graders, and were honored to receive the Second Class Labor Medal in 2022.
In Scientific and creative research, there are doctors: Truong Thanh Tung (Phenikaa University), and Le Thi Phuong (Institute of Applied Materials Science, Viet Nam Academy of Science and Technology) with many scientific research works of high application recognized by the world.
Besides, Lieutenant Duong Hai Anh, Secretary of the Son La Public Security's Youth Union, is prominent in Social activities. He is currently the project manager of "Raising Moc Chau" and "Happiness for you", calling for resources to support lunch for more than 4,000 preschool students at 75 schools in Son La province.
For the Business - start-up, it is Mr Nguyen Van Thien Vu, CEO of AgriDrone Viet Nam Joint Stock Company, who builds drones used in agriculture, contributing to sustainable livelihoods for farmers.
He also coordinated with the Central Youth Union to launch the AgriVerse Virtual Space Agricultural Product Floor, connecting agricultural products of rural youth to millions of consumers across the country./.