Optimistic signs of "green" FDI inflow
VGP - The volume and quality of FDI inflows into Viet Nam have improved as evidenced by rising number of 'green' projects.
February 14, 2022 10:15 PM GMT+7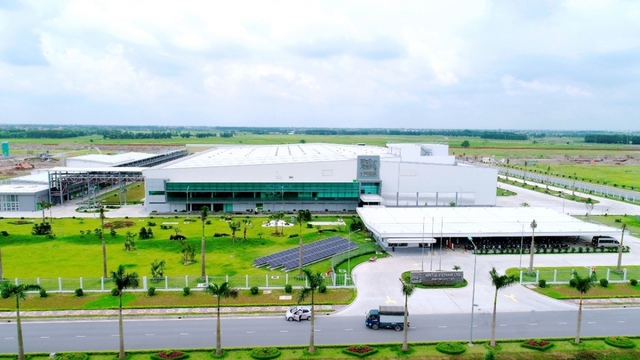 Last year, the Southeast Asian nation absorbed US$ 31.1 billion of FDI, representing a year-on-year increase of 9.2 percent despite the COVID-19 pandemic.
In January, 2022, Viet Nam attracted US$ 2.1 billion of FDI, up 4.2% against the same period last year.
It is worth noting that the number of projects capitalizing US$ 5 million and below dropped by 33 percent in comparison with that in 2020.
FDI capital was mainly poured in such areas as technology, processing and manufacturing, and energy while there was decrease in capital volume in the sectors that would trigger pollution such as garments and textiles.
Singapore was the biggest foreign investor in Viet Nam by pouring in US$ 10.7 billion, accounting for 34.4% of total capital, followed by the Republic of Korea and Japan. These countries are famous for green technologies, bringing good signs for the new FDI wave in Viet Nam.
Signals of green FDI wave
The FDI inflows feature high-quality, green, and renewable projects.
For example, last December, the LEGO Group signed a Memorandum of Understanding with Viet Nam Singapore Industrial Park Joint Venture on the building of a new US$ 1 billion plant in southern Binh Duong province. The project is expected to generate 4,000 jobs over the next 15 years. The construction is scheduled to begin in the second half of 2022 and the plant will go into operation by two years later.
The LG Display Viet Nam Hai Phong Co. Ltd. raised its investment by US$1.4 billion, bringing the total investment of the entire project to US$4.65 billion. The company has increased its investment for four times. According to the plan, the company will increase the output of OLED screens from 9.6-10 million units per month to 13-14 million products per month. It expects to pocket more US$6.5 billion in export turnover, contribute additional US$25 million to the budget and generate 10,000 more jobs.
French development finance organization Proparco provided a US$ 50 million loan for the Ho Chi Minh City Development Joint Stock Commercial Bank (HDBank) to lend green projects to promote sustainable development. This is the first time HDBank has borrowed capital from the organization but it has started to finance green projects in Viet Nam since 2018.
The International Financial Corporation (IFC) in July gave a US$ 100 million long-term loan to the Orient Commercial Joint Stock Bank (OCB) to further promote the contribution of the private sector in green and sustainable growth in Vietnam. The purpose of this credit was to extend lending to small- and medium-sized enterprises (SMEs), especially to promote the financing for climate-friendly projects in Viet Nam.
According to the World Bank's assessment, green growth financing projects play a very important role in the sustainable development of Viet Nam in the future.
A recently released report by HSBC Viet Nam highlighted that Viet Nam's economy, which has developed rapidly over the past decade, is a fertile land for investors who are seeking growth.
HSBC assessed climate change initiatives and green finance programs in Viet Nam are still in their infancy, but this frontier market is gradually catching up with governance and social factors. For example, in the renewable energy sector, Viet Nam is recording the highest level of investment in renewable energy in the Association of Southeast Asian Nations (ASEAN) region.