Foreigners with e-visa can enter, exit via Van Don airport
VGP – Foreigners with e-visa can now enter or exit via Van Don international airport in the northern province of Quang Ninh, the Government decided Thursday.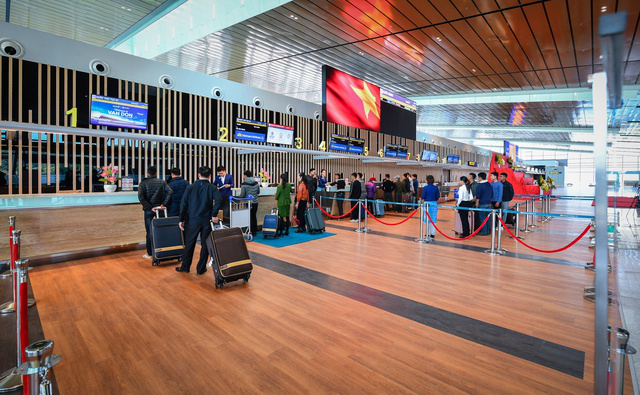 This is one of the nine airports accepting e-visa. The others are Noi Bai International Airport (Ha Noi capital), Tan Son Nhat International Airport (Ho Chi Minh city), Cam Ranh International Airport (Khanh Hoa province), Da Nang International Airport (Da Nang city), Cat Bi International Airport (Hai Phong city), Can Tho International Airport (Can Tho city), Phu Quoc International Airport (Kien Giang province), and Phu Bai International Airport (Thua Thien-Hue province).
Van Don airport is the only privately-owned international airport while all the others are state-run aiports in Viet Nam.
As Viet Nam has completely reopened inbound and outbound tourism, the Government has resumed e-visa issuance to citizens from 80 countries since March 15 this year.
These countries are: Argentina, Armenia, Azerbaijan, Ireland, Iceland, Austria, Poland, Belarus, Belgium, Portugal, Bosnia and Herzegovina, Brazil, Brunei Darussalam, Bulgaria, the United Arab Emirates, Kazakhstan, Canada, Qatar, Germany, Chile, Colombia, India, the Czech Republic, Andorra, Liechtenstein, Monaco, Croatia, Cuba, Denmark, Cyprus, Timor Leste, Estonia, Georgia, the Republic of Korea, the United States of America, Hungary, Greece, Italy, Latvia, Russia, the United Kingdom of Great Britain and Northern Ireland, Lithuania, Luxembourg, Micronesia, Malta, Macedonia, Mexico, Myanmar, Moldova, Mongolia, Montenegro, Nauru, Japan, New Zealand, Australia, Palau, Panama, Finland, France, Fiji, the Philippines, Marshall Islands, Salomons Islands, Romania, Western Samoa, San Marino, Serbia, Spain, Sweden, Switzerland, China (including Hong Kong SAR and Macau SAR passport holders, not apply to Chinese e-passport holders), Uruguay, Vanuatu, Venezuela, the Netherlands, Norway, Slovakia, and Slovenia.
Also on March 15, the Government decided to resume pre-pandemic visa issuance and foreign arrivals shall only be required to show negative COVID-19 test prior to departure./.