Ninh Binh ranks 5th among best hidden family vacation spots: The Travel
VGP - The northern province of Ninh Binh was ranked fourth in the list of the world's 10 best hidden family vacation spots to visit in 2023, according to Canadian publication The Travel.
May 25, 2023 11:13 PM GMT+7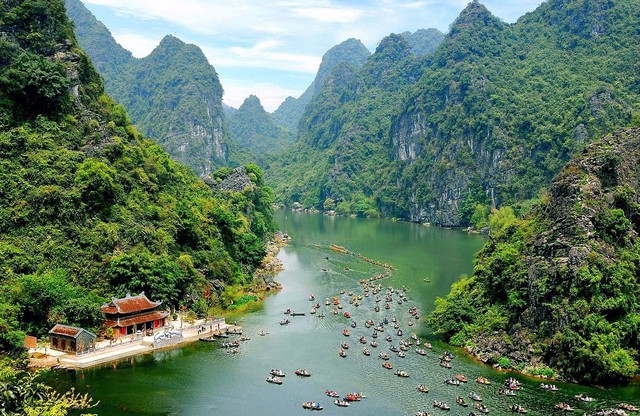 According to The Travel, Ninh Binh's scenic nature is one of the most attractive things about the place. It also boasts a fascinating history and an amazing culture.
Both kids and adults will enjoy marveling at the stunning caves, hiking through the lush forests, going rock climbing, and enjoying a boat ride along the Tam Coc River, told the magazine.
Previously, Ninh Binh was the only Vietnamese representative to be listed among the top 10 friendliest destinations in the world.
The province is launching the 2023 Ninh Binh tourism week, themed "The Golden Color of Tam Coc-Trang An", which is expected to draw a large number of domestic and foreign visitors to the locality, starting from May 27.
A new feature in the 2023 version is a 9,500 sq.m painting using rice as material on vast fields of Tam Coc stretching along the meandering the Ngo Dong river.
It symbolizes abundance and the bountiful water element that supports the sustainable development of green tourism in the ancient capital of Hoa Lu, a land of cultural heritage for thousands of years.
Rice fields in Tam Coc have been voted as one of the most beautiful in Viet Nam. The most impressive and enticing time to visit Tam Coc is around late May and early June.
During this period, the vibrant yellow of the rice fields extends shimmeringly alongside the Ngo Dong river, flowing under majestic limestone mountain ranges.
This enhances the beauty and geological significance, as well as the cultural and historical value of the Hoa Lu region, which still bears the traces of ancient humans.
Ninh Binh strives to welcome 5.35 million visitors this year, with a total revenue of over VND5.1 trillion (US$221.7 million).
In the first five months of the year, the locality welcomed 4.1 million arrivals, 2.8 times higher than the same period last year, including 547,000 ones serviced by accommodation establishments./.