New Zealand supports Viet Nam's post-pandemic recovery
VGP - New Zealand Ambassador to Viet Nam Tredene Dobson and Deputy Minister of Foreign Affairs Nguyen Minh Vu on Wednesday announced a NZ$2million contribution from Aotearoa New Zealand to support Viet Nam's recovery from the COVID-19 pandemic.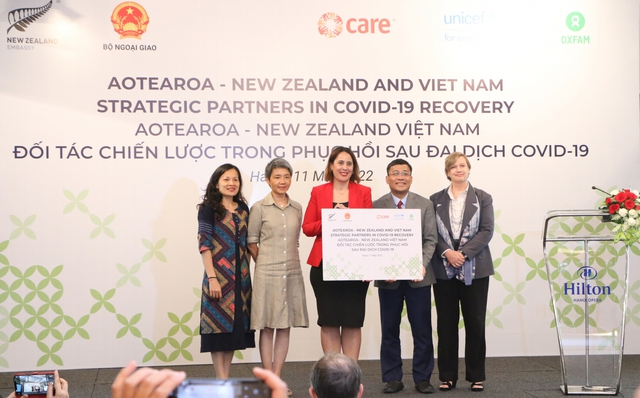 The total funding includes NZ$1 million for medical equipment, provided through UNICEF Viet Nam, and NZ$1 million for community level economic recovery support through CARE International and Oxfam in Viet Nam.
Addressing the event, Ambassador Tredene Dobson said that, this project acknowledges that there is a two-fold approach to COVID recovery. On the one hand there is an on-going health response and this is why Aoteara New Zealand is working with UNICEF to deliver medical equipment to areas where it is needed for the ongoing safe and effective response to COVID-19.
"However, there is also a significant economic impact from the pandemic so following consultation with the Government of Viet Nam, we wanted to ensure that this project also supported economic recovery amongst some of Viet Nam's most vulnerable communities - both in the major urban centers but also in hard hit rural areas", she noted.
"By working closely with many trusted partners, this holistic approach will hopefully set a strong course for recovery. It is now more important than ever that we work quickly at pace, to achieve our collective vision of a strong, prosperous and resilient Viet Nam," Ambassador Dobson emphasized.
The partnership with UNICEF Viet Nam will focus on providing medical equipment to support vaccination and treatment of children in Viet Nam, said UNICEF Representative Viet Nam Rana Flowers, adding that the medical equipment provided thanks to New Zealand will contribute to the preparedness of the health system for future outbreaks.
The projects with CARE International in Viet Nam and Oxfam in Viet Nam will support a total of 5,400 persons who have been negatively impacted by the pandemic. Most assistance will be directed to women, people with disabilities and members of ethnic minority communities in Ho Chi Minh City, Binh Duong, Quang Tri, and Ha Giang.
Over the past two years, the New Zealand Embassy has successfully delivered several COVID-19 response projects totaling NZD$270,000 through its partners, assisting more than 3,300 female workers in various sectors and 130 children with disabilities as well as members of the hearing-impaired community in Viet Nam.