New Zealand PM's visit stimulates all-round partnership
VGP - New Zealand PM John Key paid an official visit to Viet Nam from November 14-17 at the invitation of PM Nguyen Tan Dung.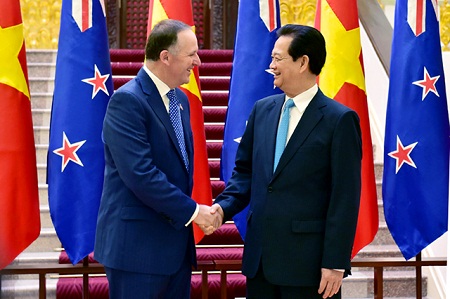 Photo: VGP
After the welcoming ceremony on November 15, the two PMs held talks.
PM Dung highlighted the visit's significance when the two countries are celebrating the 40th anniversary of diplomatic ties and having numerous cooperation opportunities brought by the conclusion of the Trans-Pacific Partnership (TPP), the to-be-established ASEAN Community and the New Zealand-ASEAN strategic partnership.
The host expressed his belief that the visit would create new stimulus for the Viet Nam-New Zealand comprehensive partnership, affirming that Viet Nam attaches importance to enhancing friendship and all-round cooperation with New Zealand bilaterally and multilaterally. He also expressed his pleasure with sound developments of bilateral relations.
PM Key noted that bilateral relations have developed firmly and cooperation has been deepened and expanded to new fields when both countries and TPP member countries concluded negotiations and New Zealand and ASEAN established strategic partnership.
The two leaders discussed nine major cooperation fields, including politics; economics, trade, investment, official development assistance (ODA); security and national defence; education and training; labor, overseas Vietnamese and people-to-people exchange; tourism and aviation linkage; medical and environment; regional and international coordination; and East Sea (South China Sea) matter.
Politically, the two sides agreed to maintain delegation exchanges at all levels and in all channels; enhance effectiveness of available cooperation mechanisms; and implement effectively the 2013-2016 action plan.
They agreed to create favorable conditions for Vietnamese businesses to introduce their agro-fishery products in New Zealand market; speed up procedures on Pest Risk Analysis to allow Vietnamese farm products' presence at supermarkets in the oceanic country.
New Zealand agreed to support Viet Nam technically and technologically and share experiences in developing market and building brand names for several Vietnamese farm products.
In addition, New Zealand will enhance cooperation and investment in Viet Nam in education, training, tourism, agriculture and agro-fishery processing industry.
The two sides agreed to strive for US$1.7 billion of two-way trade turnover in 2020.
PM Key affirmed to maintain ODA provision for Viet Nam.
Regarding defence cooperation, he noted that New Zealand will provide English training courses in peace keeping; support financially for relieving mine consequences; and enhance experience sharing and cooperation in legal enforcement at sea.
In education and training, New Zealand committed to support Viet Nam to develop high-quality human resources throught scholarship programs; share experiences and support training legal experts; help build and improve the national English proficiency standards, English curriculums and English teacher training courses.
The two PMs agreed to develop cooperation projects in vocational training, social welfare and gender equality. PM Key appreciated overseas Vietnamese's role and success in New Zealand and affirmed that they will be facilitated and encouraged to make further contributions to socio-economic development of each country and foster friendship and cooperation between the two countries.
The two sides valued tourism as a potential field for cooperation and lauded the signing of a memorandum of understanding (MOU) on aviation cooperation and the lauching of direct flights between the two countries in 2016.
The two leaders also applauded the signing of an MOU in health care and agreed to enhance cooperation in food safety, medical services, pharmaceuticals, remediation of dioxin contamination at Bien Hoa airport and adaption to climate change.
They agreed to work closely with each other in regional and international forums while condemning barbaric Paris attacks on November 13.
Regarding East Sea issue, the two leades expressed their concerns on recent developments in the East Sea and affirmed their stance on resolving disputes through peaceful means in accordance with international laws; restraining and taking no actions to intensify the regional situation; conducing no militarization actions in the East Sea; applauding efforts of all countries in maintaining peace, stability, aviation and maritime freedom, security and safety in the East Sea.
Concluding the talks, the two leaders witnessed the signing of MOUs on civil aviation, educational and medical cooperation.
By Vien Nhu