New policies take effect since October
VGP – New policies on storm-resistant house construction in the Central region, social network management, and lower personal income tax (PIT) for individuals at economic zones shall come into force since October, 2014.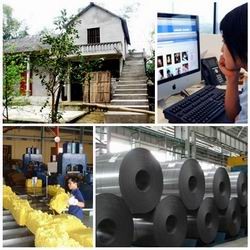 Illustration photo

Building storm and flood-resistant houses
The PM's decision on a preferential policy supporting the poor to build storm and flood-resistant houses in the Central Region shall be valid since October 15, 2014.
The policy will last three years, targeting to improve living conditions for thousands of households in 14 central provinces.
Accordingly, each family would receive VND 12 million from the State budget for building flood-resistant houses. Those live in disadvantageous administrative units listed on the PM's Decision 1049/QD-TTg, dated June 26, 2014 would get VND 14 million each. Meanwhile, every household resides in extremely difficult rural areas would be given VND 16 million.
The 14 central provinces include Thanh Hoa, Nghe An, Ha Tinh, Quang Binh, Quang Tri, Thua Thien-Hue, Da Nang, Quang Nam, Quang Ngai, Binh Dinh, Phu Yen, Khanh Hoa, Ninh Thuan and Binh Thuan.
Tightening management of social networks
Circular 09/2014/TT-BTTT dated August 19, 2014 on management, provision and usage of information of websites and social networks shall take force since March 10, 2014.
The new circular stipulates that social networks have to store information on account, login and logout time, and IP addresses of subscribers, information diary of postings of at least two years. Social networks also have to detect, warn and prevent illegal access and any type ofnetwork attacks and obey standards on information safety.
Each social network must have at least one server in Viet Nam to service unscheduled information and storage investigation.
Lower personal income tax at economic zones
Circular 128/2014/TT-BTC on decreasing PIT for individuals working in economic zones shall come into force on October 20, 2014.
Accordingly, the PIT of temporary payment and payable PIT will be decreased by 50%.
The new circular widens ranges of subjects could be entiled to deducted personal income tax. These subjects are individuals signing contracts with organizations located at economic zones, or individuals working at waste treatment facilities outside economic zones.
A leave of four days per month for charperson
Circular 19/2014/TT-BLDTBXH which guides the implementation of some articles of the Government's Decree 27/2014/ND-CP on charperson shall come into force October 5, 2014.
Accordingly, employers have to ensure an at least four days of rest in one month for their charpeople.
The fresh circular also stipulates that the working time of charpeople aged from 15 to less than 18 years must be under eight hours per day and 40 hours per week./.
By Kim Anh