New policies take effect in July
VGP – New policies taking effect in July include the new Land Law and regulations on supervising and inspecting State-owned enterprises.
July 02, 2014 1:01 PM GMT+7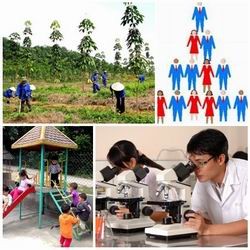 Illustration photo
The revised land law comprising of 14 chapters with 212 articles stipulates the applicable entities and conditions for an investment project to be allocated/leased with land by the State.
It specifies a number of cases regarding the recovery of land for defense and security purposes, socio-economic development serving national and public interests, and for disaster prevention.
The Government will specify procedures for compelling and recovering land as this complicated issue affects the rights and interests of citizens.
The revised Bidding Law, having 13 chapters with 96 articles, prioritizes human resource development, local bidders, job creation and made-in-Viet Nam goods.
It devotes a separate part regulating the bidding process for medicines and medical equipment purchases that spend State capital, medical insurance funds, healthcare services incomes, and other legal sources of public clinics.
The objective of the online procurement is to ensure information disclosure and to simplify bidding procedures. This is in line with the country's commitment to fight corruption and increase the effectiveness, efficiency and transparency of public procurement systems.
The revised law also introduces several options to evaluate the bidding dossiers for the bidding organizers to select, particularly the packages on consultancy and construction work.
The revised Law on Thrift Practice and Anti-wastefulness covers new provisions on wastefulness detection and steps for handling information on detected wastefulness. This aims to encourage organizations and individuals to timely detect and provide wastefulness-related information and to identify the accountability of the involved organizations and individuals.
The law prohibits all acts of hindering, threatening, revenging and outraging those who supply information exposing wasteful acts.
With five chapters and 80 articles, the amended Law on Thrift Practices and Anti-Wastefulness stipulates scopes of adjustment on thrift practices and anti-wastefulness in management and spending of State budget, public assets, labor, time of working in State sector, exploitation and usage of natural resources, production and business activities.
The fresh law adds some regulations on uncovering wastefulness, preferential mechanisms for organizations and individuals to provide timely information on the field.
The law perfects mechanisms to combat wastefulness via investigation, auditing as well as inspection.
The Government's Decree 45/2014/ND-CP dated May 15, 2014 stipulates five cases subjected to land use fee exemption.
Beneficiaries include people who render service to the nation, poor households, and people living in extremely difficult or island/border areas.
The Government will provide preferential treatment to individuals who work in the field of science and technology, according to Decree 40/2004/ND-CP.
Under the new Decree, scientists will be provided with favorable working environments and benefits so that they can promote their talents.
According to Decree 53/2014/ND-CP issued on May 26, 2013, State agencies shall have to collect comments on draft labor-related policies from organizations representing laborers and employers.
The comments focus on legitimate rights and interests of laborers and employers and measures to prevent and settle labor disputes.
The Government's Decree 42/2014/ND-CP on management the multi-level sales of goods aims to improve the State management over enterprises engaging in multi-level selling activities and to protect consumers.
The new Decree also stipulates categories of goods that are banned from multi-level selling activities.
The Government issued Decree 49/2014/ND-CP on May 20, 2014 in a bid to tighten management over State-owed enterprises (SOEs).
Accordingly, SOEs shall be supervised and inspected in terms of capital management and use; business reform, strategy development and realization, planning and production; labor recruitment, management and use; salary policies; report regime and transparency among others.
The Government's Decree 32/2014/QD-TTg on May 27, 2014 defines the average living standards of a household engaging in agriculture, forestry or salt production in the period 2014-2015.
Accordingly, such a household shall have the average income above the poverty line to under VND 900,000 (US$45)/head/month.
This criteria provides a basis for the State to identify those who shall be assisted in paying health insurance premiums./.
By Huong Giang