Nestlé strengthens collaboration with partners to advance regenerative agriculture in Viet Nam
VGP - Nestlé Viet Nam has signed an agreement with the Vietnamese Ministry of Agriculture and Rural Development (MARD) to support the country's transition to regenerative and low-emission agriculture.
June 21, 2023 7:41 PM GMT+7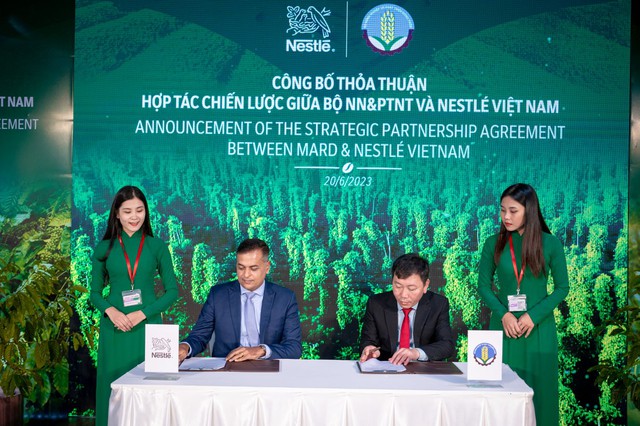 The new, three-year partnership will help the country move to sustainable agriculture and achieve its 2050 net zero target.
The partnership's initiatives and activities will be implemented through the Partnership for Sustainable Agriculture in Viet Nam (PSAV), currently chaired by MARD and co-chaired by Nestlé Viet Nam.
Within the framework of the collaboration, Nestlé Viet Nam will work with MARD to share and advance regenerative farming practices among coffee farmers. These practices will help reduce CO2 emissions and improve the resilience of farms to climate change. The company will share technology, research, and digital capabilities with MARD and directly with farmers, and it will further enhance multi-stakeholder cooperation in the sector.
The agreement was exchanged during an official meeting between Vice Minister of MARD Nguyen Quoc Tri and Mark Schneider, Chief Executive of Nestlé S.A.
"We want to transition to ecological and low-emission agriculture to help Vietnam achieve its net zero goal," said Vice Minister Nguyen Quoc Tri. "Strengthening the public-private partnership with businesses that are at the forefront of sustainability will contribute to more sustainable and climate-resilient agriculture in Viet Nam."
As part of the meeting, Mark Schneider and Vice Minister Nguyen Quoc Tri kicked off an agroforestry and reforestation project in the Central Highlands of Viet Nam. The project aims to plant and grow over 2.3 million forest and fruit trees on the coffee farms in the Central Highlands of Viet Nam by 2027. It is estimated that these trees will sequester 480,000 tonnes of CO2 over a 5-year period.
This initiative will help provide additional and more stable incomes to farmers and improve coffee farms' conditions in the long term. It will make farms more resistant to pests as well as to climatic hazards, including droughts and heavy rains, and will improve soil quality and biodiversity.
"Agriculture within our supply chains accounts for more than two-thirds of our total greenhouse gas emissions," said Mark Schneider. "As one of our key coffee sourcing origins, Vietnam is a major priority for us. We are committed to helping coffee farmers in the country transition to regenerative agriculture to improve livelihoods and address climate change through our Nescafé Plan. We are also working to restore Viet Nam's forests and natural ecosystems."
Nestlé aims to plant 200 million trees within its sourcing landscapes globally by 2030. The company's reforestation program is a key part of its Net Zero Roadmap./.