Nearly one million Vietnamese own vaccine passport
VGP - As of late April 20, nearly 1 million Vietnamese people got vaccine passport, up five times compared to five days ago, according to the Ministry of Health.
April 21, 2022 4:32 PM GMT+7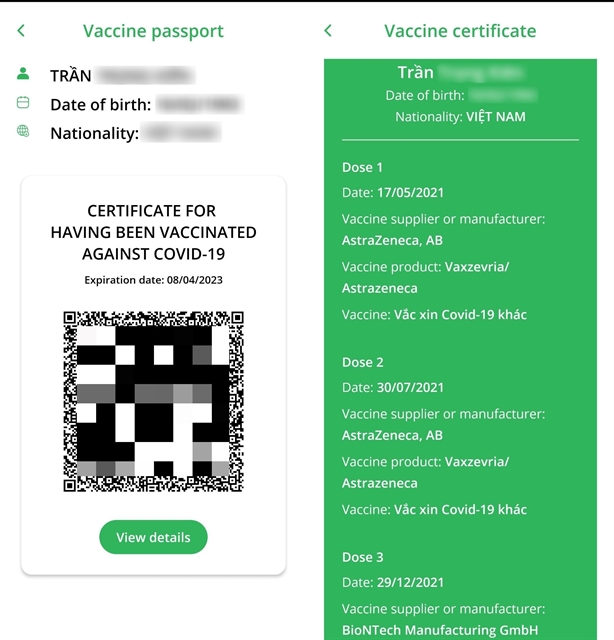 The ministry said it tasked relevant departments to review, verify, and correct inaccurate information on vaccination and update them on the management system for certification of vaccination against COVID-19 before April 30, 2022.
People who wish to get vaccine passport are suggested to contact immunization agencies to have information updated or make complaints at the COVID-19 vaccination portal website https://tiemchungcovid19.gov.vn.
They can also call the ministry's hotline 19009095 to get consultations on vaccine passport.
Viet Nam's vaccine passport follows standards issued by WHO and the EU which are being applied by 62 nations.
The passport will be available on PC Covid-19 or Digital Health (So suc khoe dien tu) apps. If people don't have the apps, they can get their passports by going to the health ministry's portal and filling in necessary information. They will then receive the passport by email.
The passport template was revealed by the Health Ministry in December last year, which has 11 fields of information: name, date of birth, nationality, targeted disease, doses of vaccines received, date of vaccination, lot number of the vaccine batch, type of vaccine, vaccine product received, the vaccine manufacturer, and a code for the certification.
Earlier, on April 8, the ministry also tasked localities and immunization agencies to use digital signatures to verify vaccination information.
So far Viet Nam has reached mutual recognition of vaccine passport with 19 countries, namely Japan, the US, the UK, Australia, India, Belarus, Cambodia, the Philippines, Palestine, Maldives, New Zealand, Sri Lanka, Egypt, Turkey, Singapore, Saint Lucia, the Republic of Korea, Iran and Malaysia.
As of late April 20, 210,107,957 doses of COVID-19 vaccines had been administered in Viet Nam, ncluding more than 192.76 million for adults, more than 17.25 million for those aged 12-17, and 88.820 for children aged 5 to 11./.