National Steering Committee reviews efforts in curbing IUU fishing
VGP – Deputy Prime Minister Trinh Dinh Dung on Tuesday presided over a meeting of the National Steering Committee on Combating Illegal, Unreported and Unregulated (IUU) Fishing.
September 08, 2020 8:05 PM GMT+7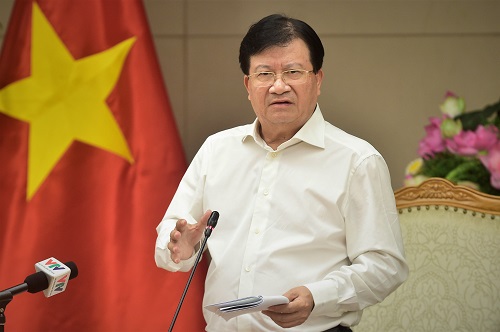 Deputy Prime Minister Trinh Dinh Dung presides over a meeting of the National Steering Committee on Combatting IUU Fishing on September 8, 2020. Photo: VGP
As of August 31, there were 24,851 out of total 30,851 vessels with a length of 15 meters or more equipped with journey monitoring system, accounting for 80.61%, according to the committee's report.
Minister of Agriculture and Rural Development Nguyen Xuan Cuong said three years on since the European Commission awarded "yellow card", Viet Nam has made significant progress in fighting against IUU thanks to the great resolve and drastic involvement of the whole political system, central and local authorities and businesses.
Specifically, the country established the national steering committee, promulgated decrees and circulars while rectifying shortcomings in vessels registration, installing tracking systems, and tracing the origin of domestic aquatic products.
Especially, the country has gained remarkable progress in controlling illegal fishing in the Pacific, Cuong added.
The European Commission spoke highly of Viet Nam's efforts but it warned that the "yellow card" would not be removed as there have been illegal fishing activities.
Law enforcement still remains limited as only a few illegal cases have been brought to trial despite the fact that punitive mechanisms have already been introduced.
Under current regulations, violators shall face strict fines for non-compliance with the policy implementations. The owners of violating vessels shall be subject to face fines of almost VND7 billion (over US$300,000), and in some cases, have their licenses revoked.
Explaining the reasons leading to the above situation, a representative from the Ministry of Public Security said it is difficult for police forces to collect evidence of violations of vessels fishing offshore as some of them turned off the monitoring systems or put the tracking systems on other vessels.
The Ministry of Public Security pledged to continue working with competent authorities to investigate and handle those who organize illegal fishing activities in foreign waters.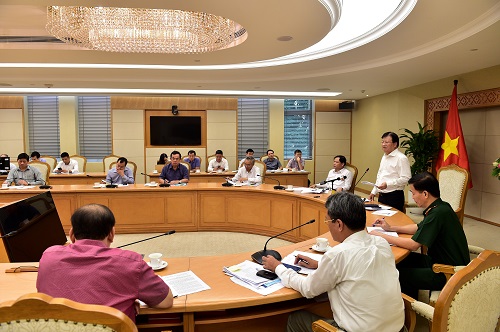 Deputy Prime Minister Trinh Dinh Dung orders more drastic efforts to eradicate IUU fishing. Photo: VGP
More drastic efforts needed to eradicate IUU fishing
Speaking at the meeting, Deputy Prime Minister Trinh Dinh Dung highlighted that Viet Nam has coordinated closely with the European Commission in tackling IUU fishing while ministries, agencies and localities have deployed drastic and synchronous efforts to curb IUU fishing.
However, the progress has yet to meet expectations as many shortcomings and weaknesses still remain, such as incomplete installation of journey monitoring systems and ineffective management of foreign-flagged vessels at Vietnamese ports.
Dung urged ministries, agencies, and 28 coastal localities to figure out concrete tasks and solutions in accordance with the Government's zero-tolerance approach to stop illegal fishing in foreign waters.
He tasked the Ministry of National Defense to enhance patrols in overlapping waters between Viet Nam and other countries, collaborate closely with relevant ministries, agencies and costal provinces and cities to strictly control fishing vessels.
Fishing vessels without valid licenses and regulated journey monitoring systems are not allowed to leave or enter ports, the Deputy PM ordered.
Dung requested the Ministry of Public Security to direct its forces to investigate and handle cases concerning organization of vessels to catch fish in foreign waters while strengthening international cooperation in this matter.
Dung demanded more focus on implementing the IUU-related regulations of the Law on Fisheries which codifies the EC's recommendations as well as other legal documents to bring about tangible outcomes.
He also stressed the need to restructure the fisheries sector towards improving living standards of fishermen and shifting to aquaculture.
The Ministry of Agriculture and Rural Development must continue sending out inspection teams to localities to oversee compliance and guide implementation processes while coastal localities have to expeditiously complete installation of journey monitoring system and foster law enforcement work, Dung stressed./.
By Quang Minh