National Committee for Traffic Safety review the first 9 months of 2021
VGP - At a meeting of the National Committee for Traffic Safety (NatCom) convened today, Standing Deputy Prime Minister Pham Binh Minh requested highest determination to to achieve the goal of 2021 to reduce traffic accidents by 10% in comparision to 2020 in every localities through all three criterias: traffic accident, fatality and injury.
October 15, 2021 10:37 PM GMT+7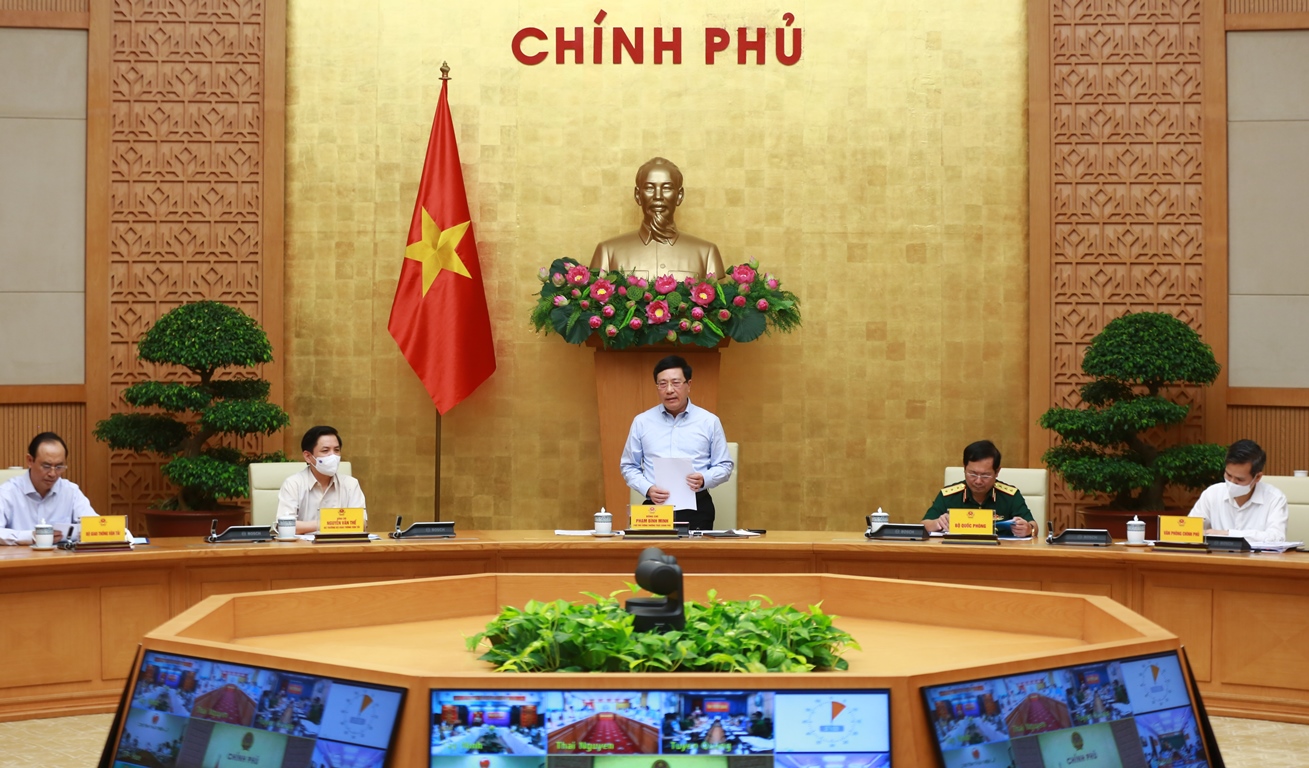 Standing Deputy Prime Minister Pham Binh Minh presides over a meeting of the National Committee for Traffic Safety (NatCom), Ha Noi, October 15, 2021. Photo: VGP
Pham also requested ministries, sectors and localities to focus on effectively implementing Directive No.18 of the Secretariat of the Party Central Committee and Resolution No.12 of the Government on enhancing traffic order and safety and resolving traffic congestion for 2019-2021 and the 2021 Plan for Traffic Safety.
At the meeting, Pham assigned the NatCom to be coordinator to work and collaborate with relevent ministries, sectors and localities for developing a national action plan for the implementation of the Decision by Prime Minister No.2060/QD-TTg dated December 12, 2020, on the Strategy for Traffic Safety for 2021-2030 vision to 2045.
He requested the Ministry of Transport to urgently finalize legal documents in line with plan of the Ministry. Those documents should focus on completing the Draft text of the Law on Road Traffic (Revision), finalizing a guiding Decree for the amending and supplementing Law for a number of articles of the Law on Handling of Administrative Violations as well as studying and promulgating regulations on road traffic organization, especially guiding traffic organization under pandemic situation.
Pham asked the Ministry of Public Security to continue coordinating with sectors of healthcare and transportation as well as localities to maintain guidance and support to ensure traffic safety with order and conditions for pandemic prevention and control for those who returning to their hometowns. He also asked the Ministry of Education and Training to deploy and review the Programs of "Traffic Safety for Tomorrow' Smile" and "Traffic Safety for the Smile of Children" as well as to organize the evaluation of the electronic textbook "Traffic Safety Education" for primary students and to make report on the progress of traffic safety education in the mainstream programs.
In the first 9 months of 2021, there were 8,161 traffic accidents nationwide, with 4,175 fatalities and 5,645 injuries. There has been a falldown in comparison to the same time of 2020, with traffic accidents by 23.64%, fatality by 16.37% and injury by 28.38%. The decrease in 3 criterias may be caused by the strict social distancing which was applied for various cities and provinces during the outbreak of COVID-19 and huge investment in upgrading, maintaining and repairing traffic infrastructure./.
By Nguyen Minh