National Assembly sets up team to inspect wrongdoings in COVID-19 fight
VGP - The National Assembly on Tuesday voted on a resolution to formulate a team responsible for inspecting mobilization, management and use of resources for COVID-19 fight in the 2020-2022 period.
June 14, 2022 9:29 PM GMT+7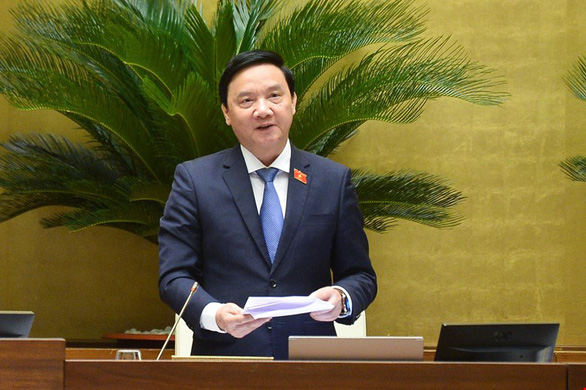 The team, led by Vice Chairman of the legislative body Nguyen Khac Dinh, is also tasked to inspect the implementation of legislation on grassroots healthcare and preventive medicine from January 1, 2018 to December 31, 2022.

Subjects of inspection shall include ministries, ministerial-level agencies, Governmental bodies, People's Councils, People's Committees, and other related agencies and organizations.
Supervisory outcomes will be reported to the National Assembly Standing Committee in April 2023 and submitted to the National Assembly at the 5th sitting of the 15th National Assembly.
The establishment of the inspection team is part of the country's efforts to crack down on corruption in the fight against COVID-19.
Last week, former Minister of Health Nguyen Thanh Long was arrested and dismissed from his post for his involvement in a COVID-19 test kit fraud. Former Chairman of the Ha Noi Municipal People's Committee Chu Ngoc Anh was also arrested and dismissed from his post for his culpability in the scandal when he was Minister of Science and Technology.
Both of them had been expelled from the Party by the Party Central Committee after helping Viet A company to inflate the price of COVID-19 test kit by 45 percent and sent around VND800 billion (US$35.2 million) as bonuses to the company's clients.
Several officials including high-ranking military generals and directors of provincial-level Centers for Diseases Control have been arrested or put under criminal investigation for their involvement in the cases.
Viet Nam's anti-corruption efforts, led by Party General Secretary Nguyen Phu Trong, has captured international media attention and praised by the international community.
The Southeast Asian country has moved up more than 30 spots in terms of the corruption perception index over the past decade, according to the Transparency International (TI).
Kenneth Atkinson, President of the British Chamber of Commerce in Viet Nam (BritCham Viet Nam), said that Vietnamese anti-corruption actions are extremely welcome, especially with cases involving high-ranking officials.